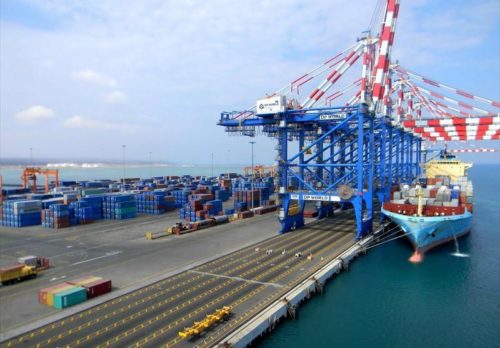 DP World has sued a Chinese state enterprise, China Merchants Port Holdings Company in Hong Kong over alleged infringement of its exclusive port agreement with Djibouti. 
In a legal filing at the Hong Kong High Court, DP World is accusing China Merchants Port Holdings of causing the Djibouti government to revoke its exclusive right to run the country's ports.
China Merchants Port Holdings' inroads into Djibouti, located strategically between the Arabian Sea and the Mediterranean Sea, has for years been at the centre of legal disputes between the African nation and the UAE state enterprise.
In the writ of summons filed to the Hong Kong court in August last year, DP World accused the company for causing the Djibouti government to nationalise the Doraleh Container Terminal, despite the 30-year concession agreement that allowed DP World to exclusively run the terminal.
DP World said under its agreement with the Djibouti government, it would have "full and exclusive right to establish, develop, and operate the Doraleh site".
The concession agreement also said Djiboutian authorities cannot grant concessions for any other port capable of handling ocean-going vessels or free zone facilities within the country for the duration of the agreement.
The concession agreement took effect in February 2004 for a period of 30 years with the option for two 10-year renewals.
Joint-venture company Doraleh Container Terminal S.A. (DCT) was created to develop and operate the terminal. The Djibouti government held 66.66 percent of DCT's shares under state enterprise Port Autonome International de Djibouti (PAID), while DP World held 33.34 percent through its subsidiary Dubai (International) Djibouti FZE (DID).
Despite being a minority shareholder, DP World had the right to appoint most board members of DCT, thereby retaining control of the company's operations and management.
Two years later, both parties signed a 2006 Concession Agreement in which DID relinquished their role in the development of the Doraleh Container Terminal.
According to DP World, Djibouti attempted to revoke DP World's exclusive agreement by using allegations of corruption, while it developed its partnership with China Merchants Port Holdings on various projects.
Djibouti government seized control of the Doraleh Container Terminal on February 22, 2018 and transferred concession staff and assets to Societe de Gestion du Terminal (SGTD), a public company created to manage the terminal.
"SGTD, whose sole shareholder is the State of Djibouti, has successfully taken over the operations of the Doraleh container terminal.
"The implementation of this concession agreement was severely prejudicial to the fundamental interests of the Republic of Djibouti, to the development of the country and to the control of its most strategic infrastructure asset," the Djibouti government had said in a press release. 
DP World in February last year sued Djibouti at the London Court of International Arbitration (LCIA) over the takeover of the terminal.
Seven months later, LCIA ruled in favour of DP World and stated that its agreement with Djibouti is still valid and binding.