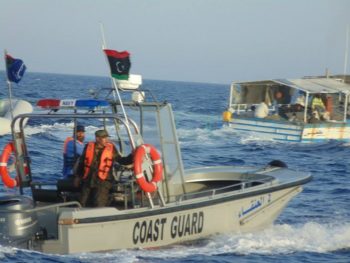 Libya's coastguard said it intercepted nearly 500 migrants packed onto a wooden boat and returned them to Tripoli after warning off a ship that was preparing to pick them up for passage to Europe.
Footage filmed by Sea-Watch, a non-governmental organisation, showed a Libyan coastguard vessel coming within metres of its own ship as it sped to stop the migrants.
Tripoli coastguard spokesman Ayoub Qassem said the incident occurred about 30km north of Libya's coast.
It highlighted the confusion in the crowded waters as desperate migrants try to reach a better life and authorities scramble to deal with the chaos.
"An international rescue organisation called Sea-Watch tried to hinder the work of our coastguard … in a bid to take the migrants, claiming Libya is not safe for migrants," he said.
Qassem said the coastguard had also exchanged fire with smugglers, but gave no details.
Ruben Neugebauer, a spokesperson for Sea-Watch, said the NGO had received instruction from Italy's coastguard control centre in Rome that the Libyan coastguard would be taking over "on-scene command," and that the Sea-Watch ship had stopped to await further instructions.
Neugebauer said: "Without any warning, they crossed our bow on the way to the migrant boat. They made an extremely dangerous manoeuvre. They nearly hit our boat, they endangered our crew."
Libya is the main departure point for migrants hoping to reach Europe by sea.
The country has been in turmoil for years and migrants living there or passing through say they are subject to a range of abuses.
A record 181,000 made the trip in 2016 and arrivals in Italy so far this year are up 30 per cent.
Most are from sub-Saharan Africa.
Most migrants attempt the perilous journey on flimsy inflatable boats provided by smugglers that are barely equipped to make it to international waters.
Larger wooden boats carrying several hundred migrants are rarer.
Some migrants are turned back by the Libyan coastguard, which generally delivers them to detention centres notorious for poor conditions and ill-treatment.
The coastguard is receiving training from the European Union as it seeks to limit migrant departures and deaths.