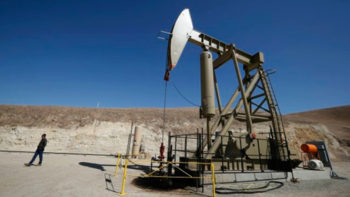 Libyan oil production has risen to just below 800,000 barrels per day (bpd) as the OPEC member pushes up production from the newly restarted Sharara and El Feel fields, a Libyan oil source said on Tuesday.
At 792,000 bpd, Libya's oil production is at its highest since 2014 and about 30,000 bpd higher than last week.
The source declined to be named because he was not authorised to speak to the media.
The Sharara and El Feel fields, with a combined capacity of about 360,000 bpd, resumed production at the end of April after protests that had blocked pipelines linking them to export terminals were halted.
A rise in Libyan oil production will complicate efforts by the Organization of the Petroleum Exporting Countries (OPEC ) to rein in oversupply. OPEC with Russia and other producers agreed to cut oil output by 1.8 million bpd in the first half of the year.
Libya and Nigeria were the only OPEC states to be excluded.
When the OPEC deal was reached late last year, Libyan oil production stood at about 600,000 bpd.
The resumption on Tuesday of output from the eastern Al-Bayda oilfield after a four-year halt also contributed to rising Libyan production. The field is pumping 10,000 bpd, a spokesman for the Arabian Gulf Oil Company (AGOCO) said.