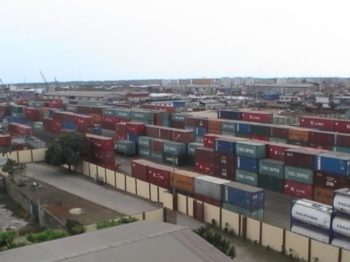 The Chief Executive Officer of Nigerian Export Promotion Council (NEPC), Olusegun Awolowo has commended the management of Lilypond Container Terminal, Ijora for planning to establish an export processing and logistics facility at the terminal.
Awolowo who gave the commendation on Monday during a seminar tagged Provision of a Seamless Logistics Service as a Panacea for Economic Growth, described the project as a game changer that will impact positively on the efforts of the council to diversify the economy through the promotion of non-oil export. 
Represented by the Director, Product Development of NEPC, Williams Ezeagwu, Awolowo said Lilypond terminal would provide exporters the much-needed export infrastructure to carry out their transactions at a reduced cost and time, thereby increasing their competitiveness in the international market.
"This project will promote non-oil export trade which are in line with the Federal Government's programme of diversification of the economy and increasing Nigeria's ranking on Ease of Doing Business Index.
"It will also encourage informal exporters to formalise their export businesses as well as assist in the collation of statistical figures for use by government and business concerns.
"Undoubtedly, this facility will provide a one-stop shop for export processing and logistic services," he said.
The NEPC boss said the council will continue to encourage and partner private investors through Public Private Partnership to address some challenges facing exporters and the business community.
He said the forum was also aimed at sensitising the various export groups and regulatory agencies on the opportunities available for exporters to handle their business.
Lilypond Container Terminal Manager, Kayode Daniel said the location of the terminal is not only strategic but central to both Apapa and Tin can Island port, making it suitable as an export logistic service centre. 
He said the company has invested in modern cargo handling equipment to aid and facilitate export processes. 
Earlier in his welcome address, Las Alli –Shobande, Managing Director, Acessport Nigeria Limited, the firm that collaborated with Lilypond Container Terminal to organize the seminar, said Nigeria exports 2.3million tonnes of non-oil export cargo annually, adding that the figure will grow with the right logistics.
He said there is need to support the non-oil export sector by developing the appropriate platform to enhance seamless logistics services.
"One of the ways to achieve this is to establish a one-stop shop model facility to handle the entire process from receipt of goods to stuffing of containers to shipment.
"We have the facility to provide all the service at Lilypond Container Terminal which is well equipped to provide all the services as well as transparency to export business," he said.   
Copyright 2017 Ships & Ports Ltd. Permission to use quotations from this article is granted subject to appropriate credit given to www.shipsandports.com.ng as the source.