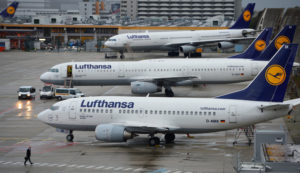 Lufthansa said on Tuesday it will introduce an Economy "Light" fare on transatlantic routes this summer, following a similar move by rival British Airways in an effort to compete with low-cost carriers.
The cheaper fare, which Lufthansa has been testing on some routes between Scandinavia and North America since October, allows passengers on airlines Lufthansa, SWISS, Brussels Airlines and Austrian Airlines to bring only carry-on luggage on their trip, it said.
For an additional fee, they can add check-in luggage or request a seat reservation.
Lufthansa did not say how much the tickets would cost. In 2015, it introduced a "Light" fare on European routes, with round-trip tickets starting at €89 ($105).
British Airways, owned by International Airways Group last month unveiled a new "basic" fare, whereby a one-way ticket between London and Boston in the United States would cost from £175 ($236).
That compares with low-cost carrier Norwegian's £145 cheapest available fare, according to its website on that same route.
Legacy airlines are battling Norwegian and other budget carriers such as Canada's Westjet and Iceland's Wow Air, which are all stepping up expansion on routes between North America and Europe.
Agency Report