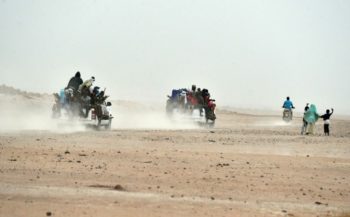 The International Office of Migrations (IOM), said on Tuesday that 386 African migrants, short of food and water, were found by a search-and-rescue team in the Sahara desert last week.
"No fewer than 386 migrants, citizens of third countries, were found stranded in the desert in Niger, with little water and no food or identity papers," the agency said on its Niger Facebook page.
The migrants were found by a team that had been combing the desert for them between Arlit and Assamaka, a town on the border with Algeria.
The IOM did not give the nationalities of the migrants or say how they ended up stranded, but said all of the survivors were being lodged at its transit centres in Arlit "and are awaiting their return home".
The IOM says it has carried out 18 such rescue missions since the start of the year, saving 3,000 people.
Niger has become one of the main routes for African migrants heading north to the Mediterranean coast in the hope of crossing to Europe.
The Saharan route is notorious for its dangers, which include breakdowns, lack of water and traffickers who abandon migrants in the desert.
Agency Report