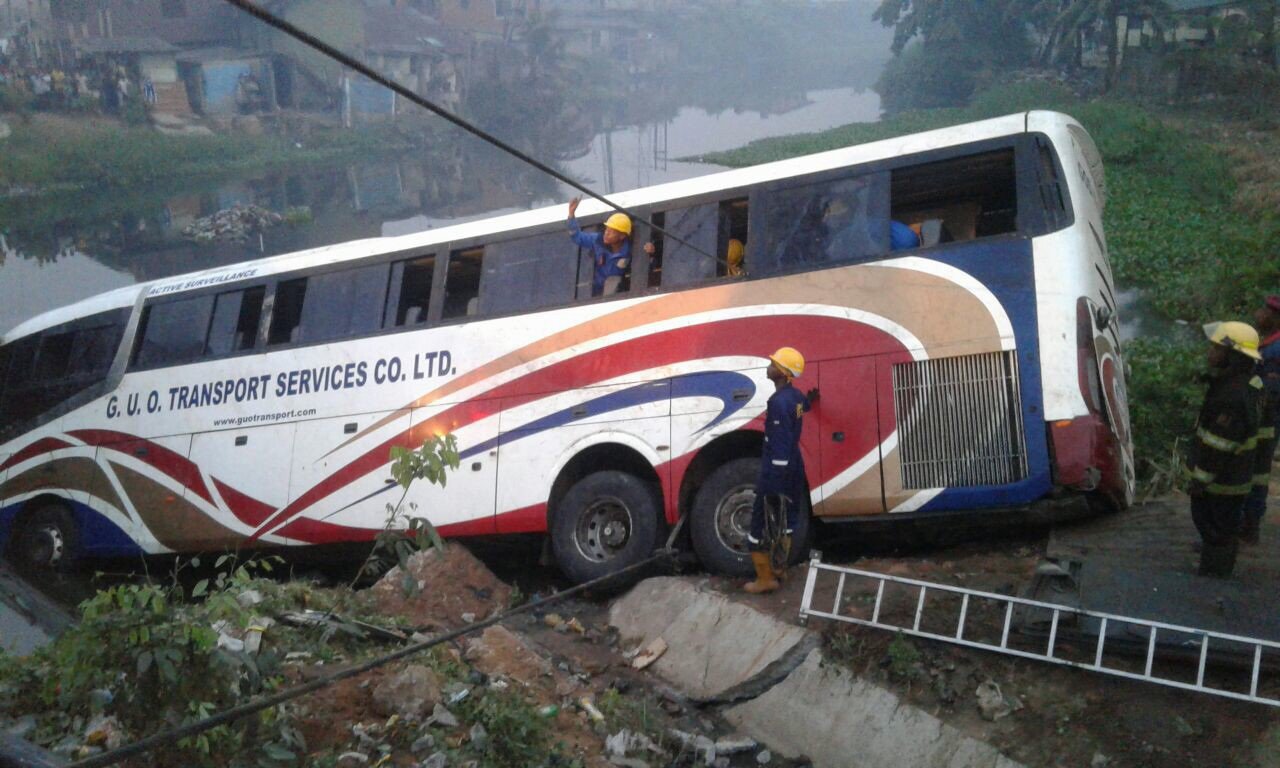 Three persons, including a driver, Sidi Abudu, 40, Friday lost their lives after an interstate luxurious bus in which they were travelling plunged into the Maiden River in Ikorodu, Lagos.
Fifty-nine people were on board the ill-fated bus which had taken off from Aba, Abia state for Lagos on Thursday evening.
It had travelled all night stopping over in Benin, Edo State to pick more passengers.
However, on the Majidun River bridge at Owode Onirin, about 30 minutes from its Mazamaza, Lagos, final destination the bus unexpectedly took a plunge into the depth of the water below. Time was about 3.30am
Some of the passengers were able to swim their way out of danger immediately while officials of the Lagos State Emergency Management Agency (LASEMA) who raced to the scene succeeded in rescuing the rest, save the three that died.
Dead were Abudu, the conductor of the bus and a female passenger.
The accident sparked a gridlock on the road as motorists and commuters set out to go about their businesses.
LASEMA attributed the accident to over-speeding.
General Manger of the organisation, Adesina Tiamiyu said, "The bus skidded off its track while on high speed and plunged into the canal.
"Of the 59 passengers on board, 23 persons sustained injuries. Some of them were treated on the spot by paramedics from LASAMBUS, but nine persons were taken to the Lagos State Trauma Centre, Toll Gate, for further treatment.
"Then three victims including two adult males and a female were recovered dead from the water. The bus was also recovered with the help of a crane.
"The rescue team handed over the dead bodies, their belongings and the recovered bus to policemen at Owode Division.
"Proper investigation would be conducted on the incident. Motorists are advised to be safety conscious and avoid excessive speeding while driving especially when embarking on night journeys."