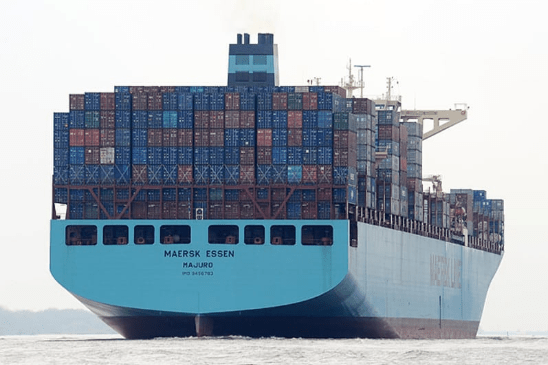 A Maersk operated containership en route to Los Angeles, California has lost some 750 containers overboard in the Pacific Ocean.
The incident occurred on January 16, 2021, and involved the 13,100 TEU capacity Maersk Essen, according to a casualty report by WK Webster (WKW), a cargo casualty management firm. The cargo loss is believed to be the result of severe weather.
Maersk has also confirmed the incident.
"It is reported that up to 750 containers may have been lost overboard and it is therefore also very likely that some containers will have collapsed or been damaged in the affected stacks, but remain on board. These containers will need to be removed or repositioned," the WKW report said.
"The vessel is understood to be continuing the voyage to Los Angeles where it is scheduled to arrive possibly as early as 22nd January, and WKW will make arrangements for surveyors to be in place in order to investigate the cause of the incident and to attend to any cargo surveys as may be necessary or possible," it added.
Maersk, which confirmed the incident in a statement, said, "We regret to announce the 13,100 TEU, Danish-flagged, Maersk Essen enroute from Xiamen, China to Los Angeles, California on Maersk's TP6 Asia/US West Coast service experienced heavy seas during her North Pacific crossing on the 16th of January 2021, resulting in the loss of approximately 750 containers overboard. All crewmembers are safe and a detailed cargo assessment is ongoing while the vessel continues on her journey. The US Coast Guard, flag state and relevant authorities have been notified.
"We view this as a very serious situation which will be investigated promptly and thoroughly. Operations and vessel safety are our highest priority and we will be taking any necessary steps to minimize the risk of similar incidents occurring in the future.
"A customer communications plan and claims process was urgently put in place for those customers impacted."
The Maersk Essen is a Maersk Edinburgh-class ship built in 2010 and registered in Denmark. The vessel measures 366 meters in length and is 141,000 gross tonnes. It is operated on the TP6 service connecting Asia and the U.S. West Coast with calls in Cai Mep (Vietnam, Kwai Chung (Hong Kong), Yantian (China), Xiamen (China) and Los Angeles (USA).
The incident comes after the ONE Apus lost nearly 2,000 containers overboard in Pacific Ocean during a voyage Long Beach on November 30, 2020, easily ranking it as the worse overboard container loss incident in history.
Copyright Ships & Ports Ltd. Permission to use quotations from this article is granted subject to appropriate credit given to www.shipsandports.com.ng as the source.