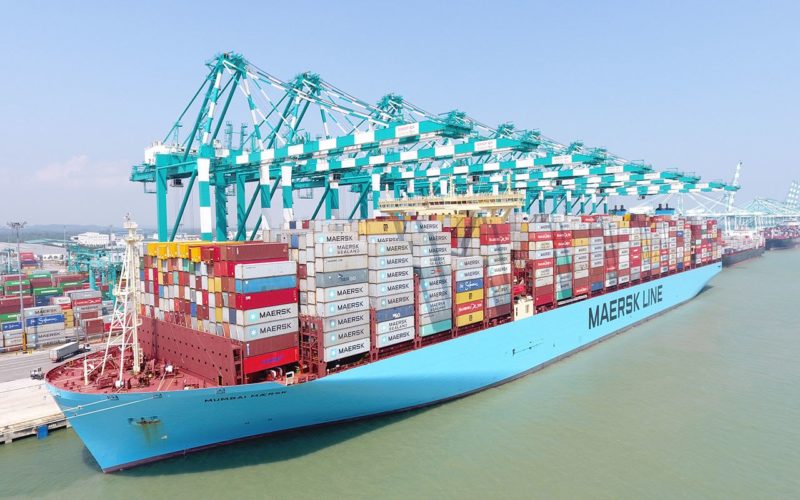 With a load of 19,038 TEU, the Maersk Line ultra-large containership Mumbai Maersk has set a new world record for the largest load ever carried by containership.
The accomplishment marked the first time a ship has surpassed the once-mythical 19,000 TEU mark.
The Mumbai Maersk, one of Maersk's second generation Triple-E's, set the record last weekend at the Tanjung Pelepas Port in Malaysia. The ship is now sailing for Rotterdam, where it is expected to arrive September 5th.
Mumbai Maersk has a nominal capacity of 20,568 twenty-foot equivalent units (TEU). It was entered into service in May 2018 and is deployed on the Asia-to-Europe service.
Maersk Line says the record load of 19,038 TEU surpasses the previously-held Maersk record of 18,215 TEU, which was set by the first-generation Triple-E vessel Madison Maersk in 2015. The new record also overtakes all other reported record loadings from other carriers.
The Port of Tanjung Pelepas (PTP) is home to Malaysia's most advanced container terminal, strategically located at the confluence of the main east-west shipping lanes.
PTP has 8 linear berths (360 m per berth) totaling 2.88km, and is equipped with 24 Super Post Panamax cranes, 10 of which have a 22-box outreach required to handle Super Post Panamax vessels.
Maersk says the record-breaking load also marks a sign of strategic progress for the company.
"Our hubs are currently breaking existing productivity records. This record on most loaded containers during a port stay is one of many illustrations showing that we are well-positioned to become a company of operators who are proud, passionate and world-class at servicing our clients," the Chief Operating Officer at APM Terminals, Keith Svendsen, said.