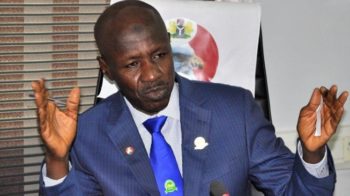 Members of the Senate are currently calling for the suspension of consideration and confirmation of appointments by President Muhammadu Buhari over a comment credited to Acting President, Yemi Osinbajo, that executive appointments did not require legislative approval based on Section 171 of the Constitution.
Protests came from the lawmakers when a letter from Osinbajo asking the Senate to confirm the nomination of  Lanra Gbajabiamila as Chairman of the National Lottery Commission, which was read by President of the Senate, Bukola Saraki, at the plenary.
While strongly condemning Osinbajo for the comment, the lawmakers successively asked that an embargo should be placed on confirmation of executive appointments pending the time the powers of the legislature had been recognised.
While asking that legislators might move against the leadership of the Senate if it failed to take a drastic action against the executive in 48 hours, the lawmakers asked that invitation from the Economic and Financial Crimes Commission to any member be ignored.