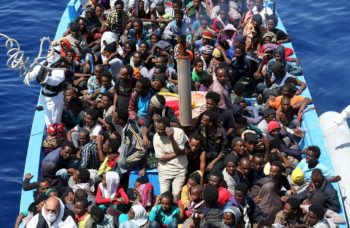 Italy's Prime Minister said on Tuesday that Malta will let rescue ship Lifeline, dock after Rome refused it entry, ending the vessel's near week-long wait in the Mediterranean with more than 230 migrants on board.
The offer resolved a standoff with Italy, where a new populist government, co-led by the anti-immigrant League party, has shaken European migration policy by announcing it will no longer let in ships operated by charities that rescue migrants.
The dangerous sea route to Italy has been the main route into Europe for asylum seekers from Africa, many thousands of whom have died at sea over the past few years. Lifeline said overnight one person had to be evacuated for medical reasons and that general conditions on-board were worsening.
Mission Lifeline, the aid group that runs the ship, welcomed Malta's offer but said on Twitter "we now need EU countries to welcome the people."
Italy's Prime Minister, Giuseppe Conte, said his Maltese counterpart, Joseph Muscat told him about his decision in a phone call.
The Lifeline has already spent five days stuck in international waters. After reaching Malta, the migrants will be divided up among European Union members who are willing to take them in, Conte said. He did not say when it would arrive.
"Italy will do its part and welcome a portion of the migrants who are on board Lifeline in the hope that other European countries do the same," he said.
Conte said the ship would then be impounded and its captain investigated over reports that he ignored instructions to let the Libyan coastguard pick up the migrants.
The Maltese government issued a statement opening up to the possibility of allowing the ship to dock, but not confirming it, and confirming possible legal action against its crew.
"In the event that the vessel enters Maltese ports, there shall be investigations and possible action taken in regards to the MV Lifeline," it said.
An ad hoc agreement was being negotiated to distribute the migrants among willing EU countries, the statement said, adding that four member states had already confirmed their participation, while another two were considering it.
It did not name the countries.
Agency Report