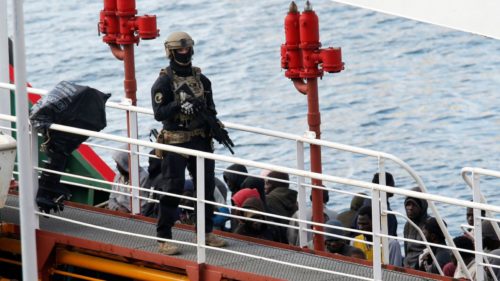 Maltese armed forces have taken control of an oil tanker El Hiblu 1 that was commandeered by migrants after they were rescued off the coast of Libya.
The 108 migrants seized the vessel when it became clear that it planned to return them to Libya. They consist of 77 men, 19 women and 12 children.
The Armed Forces of Malta (AFM) said in a statement on Thursday said it established contact with the vessel's captain when the tanker was 30 nautical miles off Malta.
"The captain repeatedly stated that he was not in control of the vessel and that he and his crew were being forced and threatened by a number of migrants to proceed to Malta," the statement stated.
A patrol boat stopped the ship from entering Maltese waters and a special operations team was then dispatched to board and secure the vessel, the army added.
The special operations team was backed up by a patrol vessel, two fast interceptor craft and a helicopter.
The AFM did not say if its personnel needed to use force.
It said the ship was now being escorted to Valletta harbour to be handed over to the Malta police for further investigations.
The incident comes as the European Union (EU) says it is ending navy patrols in the Mediterranean.
The EU says the decision to suspend Operation Sophia in September follows a request by Italy.
The mission was put in place four years ago to deter people smugglers and rescue migrants trying to reach Europe by boat. Tens of thousands have been saved.