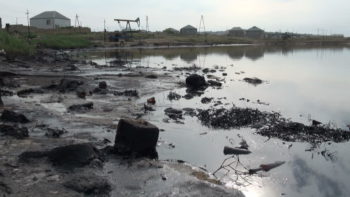 A man in his early 30s, identified as Victor Ohuonu, has died while trying to scoop waste oil from the Nigerian National Petroleum Corporation (NNPC) dump at Osisioma depot, Abia State.
A staff of the NNPC depot who pleaded anonymity said some roadside oil sellers regularly visit the dump to scoop waste oil with which they mix with petroleum products to make gains.
Ohuonu and his colleagues were said to have gone to the waste dump to scoop waste oil pumped out from the NNPC reservoir, which they sell to unsuspecting buyers.
According to eyewitnesses, trouble started for the victim when he slipped from the bank of the dump filled with rain water and oil and fell into the ditch. Attempt to rescue him were unsuccessful as he drowned.
"He was given a bamboo stick to clutch on to in order to come out safely as his body was yet to sink, but Victor insisted he could come out on his own and needed no aid. But he suddenly sank and wasn't seen again. His corpse was rescued the following day floating on the dump," the eyewitnesses said.
When contacted, Police Public Relations Officer, Abia State Police Command, DSP Geoffrey Ogbonna, said the incident was not reported to be the Police.  
Source: Vanguard.