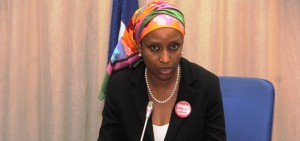 Managing Director, Nigerian Port Authority (NPA), Hadiza Bala Usman has reiterated the need for manpower development in the maritime sector saying it is critical to the growth of the industry.
Usman who stated this at a recent event in Lagos pointed out that without adequate manpower, it will be difficult to develop the industry.
She said, "We have youths that need to be employed so we need to work extra hard to ensure that provision is made across the industry to develop manpower. That is the only way we can grow our industry as a nation."
Usman said there is also need for government to provide the right economic policies that will help in developing the sector.
On the proposed national fleet, the NPA boss reaffirmed the federal government's position to ensure that it is driven by the private sector while providing the needed support by creating the enabling environment.
She said government was working towards providing finance for ship owners.
"Investing directly is what the government will not do but it will retain its role in regulation and support the development of the national fleet.
"It is going to be solely driven and implemented by the private sector but the government will be on hand to provide all the support that is required to enable the private investors develop the initiative," she said.