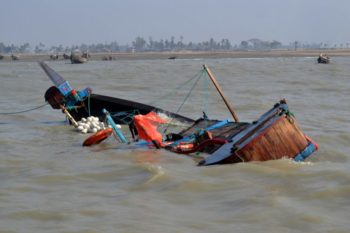 The Marine Police has rescued three persons on Pashi river, Badagry, Lagos State, after their boat capsized on July 29.
The Divisional Marine Officer, Badagry, DSP Uchenna Itinyi, made this known in an interview with journalists in Badagry on Thursday.
He explained that the men were coming from Cotonou, Benin Republic, and the boat was loaded with different goods when it capsized.
Itinyi said the police officers, who were on 24 hours water patrol when the incident occurred, immediately moved to the scene and rescued the passengers.
He said, "We were able to save them before sinking, but unfortunately, we were unable to save their goods as everything went down.
"I asked them to sit down for few minutes to see if the incident had affected them so that we could take them to the hospital for treatment.
"When I discovered that they were in good condition, I told them to write an entry and released them.
"I urged them to come back the following day to check if we would be lucky to find any of their goods."
Itinyi urged boat passengers to always put on life jackets.
The Marine Police, established in 1891 in Lagos, was then known as 'Night Water Patrol,' with initial personnel of 12 headed by a sergeant.
It was saddled with duties such as anti-smuggling patrols, anti-piracy operations, enforcement of ports, harbour and Shipping Acts, guards, escorts duties, surveillance and general anti-crime duties.