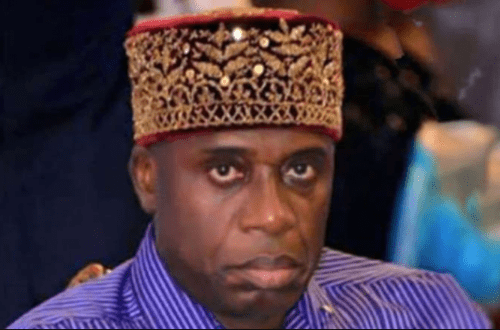 Former Senior Special Assistant to former President Goodluck Jonathan on Maritime Affairs, Leke Oyewole, has faulted the position of the Minister of Transportation, Rotimi Amaechi, on the controversial Safe Anchorage Area (SAA) operated by Ocean Marine Solutions Limited (OMSL) and the Nigerian Navy. 
Ameachi had on Monday declared the operation of the SAA as illegal, stating that the operation was suspended because "it was criminal" to create anchorage for the purpose of providing security, which ordinarily should be the responsibility of the government.
However, speaking in an exclusive interview with SHIPS & PORTS in Lagos, Oyewole said the Ministry of Transportation has no mandate on the security of the nation's waterways and is not in a position to query arrangements made by the Nigerian Navy or any other statutory security agency. 
He said, "The need to secure the anchorage is paramount because we have reversed back to the era where robbers will rob ships even the one discharging at the port and those waiting at the anchorage are equally not secured. So there is need to secure the anchorage. But who secures the anchorage is the next thing.
"I am not aware that the Ministry of Transportation has security mandate. Security of the waterways belongs to the Navy and the Marine Police. If the Navy or the Marine Police have decided to outsource their responsibility, nobody can query them."
Oyewole, however, noted the need for government to be proactive to stem the tide of incessant pirate attacks and kidnappings on the nation's waterways, noting that the continued insecurity have led to high insurance premiums by shipping companies trading on Nigerian waters. 
"There is the need that government must be proactive to save the port anchorage and our coastal waters. If we leave the insecurity challenge unchecked, it can also come in form of premium shippers have been paying for importing goods to Nigeria.
"If you import to neighbouring countries, you pay less freight than when you import to Nigeria. A car coming to Nigeria will pay $300 higher than the ones going to other neighbouring countries. 
"So, if a ship that carries about 5,000 cars come to Nigeria, that means Nigerians have paid $1.5 million extra on that ship in the name of insecurity. If 20 ships come to Nigeria on a daily basis, and you multiply on the average, the $1.5 million by 20, you are talking about $30 million dollars. So Nigeria is bleeding at the rate of $30 million per day. That is unacceptable by any nation from shipping alone because that translates to increase in the cost of goods that land in Nigeria.
"It is expedient and needful that the waterways are secured but the question of who secures it; whether the Navy does it directly or the Marine Police do their job as they should do still remains. Some have argued that the Navy's responsibility is to sustain the territorial integrity of Nigeria," he added.