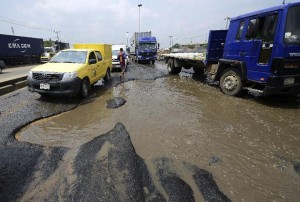 The Maritime Workers Union of Nigeria (MWUN) on Sunday gave the Federal Government a 21-day ultimatum to rehabilitate and make the Oshodi-Apapa dual carriage way and the access roads leading to the nation's sea ports motorable.
The President-General of MWUN, Adewale Adeyanju, gave the ultimatum while responding to questions from journalists in Lagos.
He said that it was sad that the access roads to the ports were in a deplorable condition.
Adeyanju said that the union was worried that the access roads to the nation's seaports and the Oshodi-Apapa dual carriage way that leads to Apapa and Tin Can had been abandoned.
"It is sad that the gateway to the nation's economy is abandoned. We have written several letters including issuance of ultimatums over these roads but all to no avail.
"'We can no longer live with the abandonment of access roads to the ports which have been in the state of disrepair for years in spite of efforts to draw government attention to the need to fix them," he said.
The MWUN leader said that for a long time, the Oshodi-Apapa dual carriage way as well as other port access roads had become death traps to road users.
He said that the roads had been recording fatal accidents on a daily basis, and in December 2016, the Nigerian Ports Authority (NPA) said that the contract for rehabilitation of the road had been awarded.
"We are in May 2017, nothing has been done. The sad thing is that no sign that any contract had been awarded to any contractor," Adeyanju said.
He further said that last week; NPA wrote again to the union that contracts had been awarded for the rehabilitation of the roads.
"If after three months to six months, the rehabilitation project does not start, we shall be compelled to take necessary action without further notice," the union leader said.
He appealed to the government to repair the roads to save lives of innocent Nigerians that get trapped on the road or being attacked, robbed, harassed, intimidated and abused by hoodlums.
He said that hoodlums had been taken advantage of the deplorable roads to perpetuate all sorts of crimes.  
Copyright Ships & Ports Ltd. Permission to use quotations from this article is granted subject to appropriate credit given to www.shipsandports.com.ng as the source.