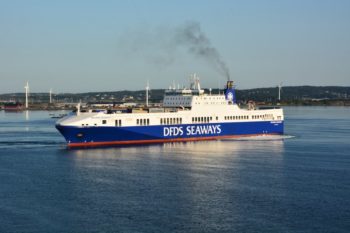 A UK judge has handed down steep fines to the experienced Masters of two vessels that collided in thick fog on Humber estuary in Northern England in May 2016 due to a "catalogue of failures".
David Carlin, the master of the WWII-era motor launch Peggotty, and Thomas Neilsen, master of the Danish-flagged Ro-Ro Petunia Seaway, were both prosecuted under section 58 of the Merchant Shipping Act 1995 following an investigation by the Maritime & Coastguard Agency. Both were sentenced to pay £3,000 each, plus thousands more in costs, after pleading guilty to conduct endangering ships in court on Thursday.
According to the UK Coastguard, at 4:30 a.m. on May 19, 2016, the 50-foot Peggotty left Grimbsy Docks for Hull under the command of David Carlin. Despite being a private voyage, Carlin was an experience master and marine and Humber pilot. The Coastguard said despite the thick fog, Carlin failed to comply with a number of regulations to keep his and other vessels safe, including failing to make his vessel's radar operational, failing to make sound signals, and failing to ensure all the navigation lights were working. He had also not taken the conditions into account or prepared an effective passage plan for the journey and was relying on an untested mobile phone app, the Coastguard said.
Meanwhile the Petunia Seaway, a 200-meter Ro-Ro, was making its way down the Humber towards Grimbsy, under the command of Captain Thomas Neilsen, at 14 knots despite zero visibility, and without making sound signals or properly monitoring radar.
The two vessels collided nearly head-on at about 4:50 a.m., eventually sinking the Peggotty. Carlin was rescued by a nearby pilot boat without serious injury.
"I am both surprised and disappointed that this collision, which could easily have resulted in far worse consequences for those onboard the Peggotty, occurred in the first place," said Gwen Lancaster, surveyor in charge at the Maritime & Coastguard Agency's Hull Marine Office. "Both vessels were under the command of experienced professional captains who should have known better. This whole incident reflects complacency on their part in addition to a blatant disregard for the rules designed to prevent collisions occurring at sea."
During Thursday's trial, a district judge with the Hull Magistrates Court said Carlin, for his part, had a catalogue of failures, while Neilsen's actions were also insufficient to avoid the collision.
After fining them both £3,000 each, the district judge also ordered Neilsen to pay £9,318.20 in costs, as well as a £170 surcharge. Carlin was also told he would have to pay £6,568 costs plus the £170 surcharge.
Copyright Ships & Ports Ltd. Permission to use quotations from this article is granted subject to appropriate credit given to www.shipsandports.com.ng as the source.