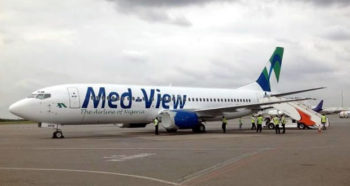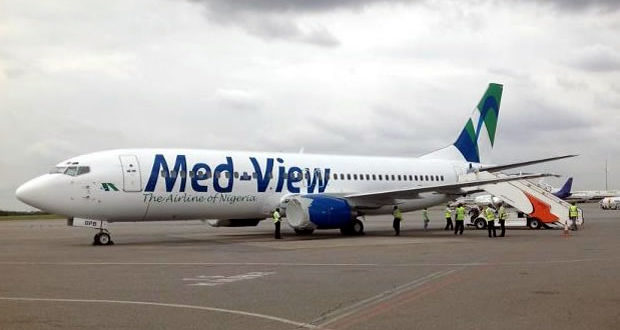 Hundreds of Dubai and London bound passengers of  Med-View Airline are stranded on Thursday and Friday at the Murtala Murtala Muhammed International Airport (MMIA), Lagos.
This happened as the indigenous airline yesterday cried out over alleged sabotage of its international operations.
Newsmen learnt that some of the passengers were scheduled to travel out of the country on Thursday to Dubai, but could not leave as scheduled while the London bound passengers meant to travel to London at 11:30am yesterday (Friday) could not also depart.
No fewer than 47 passengers to Dubai were affected by the development but they were checked in a hotel on Thursday.
A source disclosed that that they were assured of departure on Saturday but only 38 of them were endorsed on Rwandair for Saturday's flight.
The flight VL0209 (LGW) scheduled to depart at 11:30hrs yesterday with over 200 passengers could not also leave the country as scheduled and most of the passengers who had hitherto planned to leave Nigeria yesterday could not do so.
Most of the passengers were seen yesterday at the departure hall even as they lodged complaint to the officials of the Consumer Protection Directorate (CPD) of the Nigeria Civil Aviation Authority (NCAA) who calmed them.
The airline however issued a statement explaining that the cancellation was as a result of the failure of its handling service in London to provide services to its aircraft, saying some of the passengers were endorsed on other carriers.
The statement signed by the Executive Director, Business Development and Commercial, Isiaq Na-Allah said, "We wish to inform our numerous passengers who were scheduled to travel on our flight in and out of London and Lagos today 26 Jan on the fact of the situation.
"After the departure of our flight from Lagos to London on Wednesday 24 Jan, we were informally informed by our handling agent that they will not be providing services to our aircraft. We immediately sought intervention of the Gatwick Authority who is expected to be unbiased but joined the fray surprisingly. Not wanting to take chances, we sought for alternative handling arrangements to avert an ugly situation but this proved abortive.
"Our passengers who were scheduled to come to Lagos on this service were therefore denied boarding and we had to provide accommodations and logistics for them with the hope that we will clear the issue the next day and then operate the service.
"Our European partner, EAA came and intervened but this also proved abortive. This we view strongly as unethical and draws a suspicious motive. In order to avoid more embarrassing situations we protected these passengers on other alternative carriers to Lagos. We strongly regret this situation.
"As it became evident that our airplane will not be allowed to come and position to Lagos for our next rotation to London, we had no choice other than to cancel our London service today, Friday 26 Jan. This we effectively communicated to our passengers and protected them on other carriers. While some accepted the offer, some rejected insisting they want a particular carrier. We are presently working to resolve with these passengers".