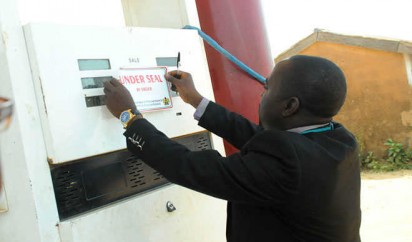 The Federal Ministry of Industry, Trade and Investment has shut down 30 filling stations in Benin.
The Chief Media Mythology Officer, Weight and Measures Department in the ministry, Nwachukwu Cordelia, made this known in Benin on Friday in an interview with journalists.
Nwachukwu said that the fuel stations were shut due to faulty meter pumps used by petroleum marketers.
She said, "We have investigated about 120 filling stations and some of the marketers are doing well, while some are cheating buyers.
"We had to shut the filling stations cheating buyers and invite them to our office for questioning.
"Most of the filling stations put the blame on tanker drivers, evaporation and task forces that are after them."
Nwachukwu who was on surveillance inspection in Benin, Auchi and Uromi, revealed that the filling stations that were shut down would be re-opened after an investigation on why they tightened their meter pumps.