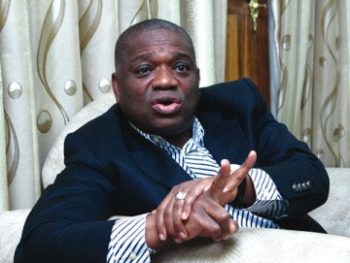 The Federal High Court in Lagos on Tuesday dismissed an objection filed by former Abia State Governor, Orji Ozor Kalu, challenging the competence of the first prosecution witness to testify in the money laundering charge filed against him by the Economic and Financial Crimes Commission (EFCC).
The commission re-arraigned Kalu, Udeh Udeogu and Slok Nigeria Limited at the Federal High Court in Lagos on 34 count- charge of laundering N3.2billion, to which they pleaded not guilty.
Defence counsel, Chief Mike Ozekhome (SAN) and Chief Solo Akuma (SAN), on Monday argued that the statement of the first witness, a banker, Mr. Onovoe Oghenovo, was not frontloaded.
Justice Mohammed Idris overruled the objection on Tuesday.
He agreed with the prosecution that the witness having been subpoenaed should be allowed to testify whether his statement was frontloaded or not.
The judge, however, directed the prosecution to serve the defence with the statements of other witnesses.
When trial began and prosecution counsel sought to tender a document, defence counsel also objected.
EFCC's lawyer, Rotimi Jacobs (SAN), during examination-in-chief of the first prosecution witness, Onovah Ogonevoh, sought to tender a document from the defunct Manny Bank Plc in response to an enquiry from the commission over the 27 bank drafts issued by the bank's Umuahia branch.
The bank, in its response dated October 13, 2006, had attached the customer's name, the account number and copies of the bank drafts to a cover letter.
The defence raised objections to the admissibility of the documents attached to the cover letter.
Ozhekome said the letter's certification by the EFCC was erroneous.
"It is legally untenable for the commission to certify a document which originally was in possession of the bank. The bank is in a better position to certify the document," he said.
Ozhekome said since the witness was not the documents' maker, it would be difficult for the defence to cross-examine him on it.