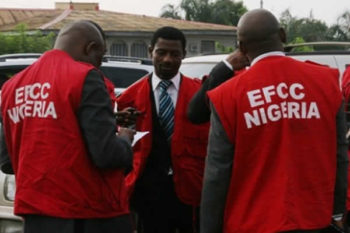 The Economic and Financial Crimes Commission has arraigned one Dairo Seun before for a N11.3m fraud.
Seun was arraigned on Tuesday before Justice A. B. Mohammed of the FCT High Court, Jabi, on eight counts bordering on theft, criminal breach of trust and advance fee fraud.
The EFCC said he was arrested after the Ministry of Finance petitioned the agency in February 2016 requesting for "payroll fraud investigation" as part of efforts to unravel various techniques used by fraudsters to defraud the Nigerian government by way of ghost workers.
According to the anti-graft agency, Seun, who goes by various aliases including Momoh Hassan, Umar Musa and Umar Obele Musa, is alleged to have connived with one Saliu Olashola (aka Nokia), to commit the fraud between 2013 and 2017.
He is accused of stealing N5,673,503.64 from the Federal Government by creating fictitious accounts for salaries and allowances, using his various aliases, an offence contrary to Section 287 of the Penal Code Act, Laws of Federation 2004.
The accused however pleaded not guilty to the charges, one of which read, "That you, Dairo Samson Seun (aka Momoh Hassan, Umar Musa and Umar Obele Musa) between July 2013 and February 2016 at Abuja within the Judicial Division of the High Court of the Federal Capital Territory pretended to hold office of an Administrative Officer bearing a fictitious name of Umar Musa on grade level 8 with the Federal Ministry of Works as a Public Servant and in such assumed character did receive a total sum of N1,646,041.77 as salaries/allowances from the Federal Government".
After his plea, the prosecution counsel, Olamide Babawale, asked for a date for commencement of trial, and urged the court to remand the defendant in prison custody. However, the defense counsel, Folunso Adegalu, urged the court to accede to his bail application dated February 27, 2017 "to enable the defendant prepare for his trial".
Justice Mohammed, granted him bail in the sum of N5m, two sureties, one who must be a civil servant and a resident of Abuja with proof of evidence, and adjourned to March 10, 2017 for hearing.