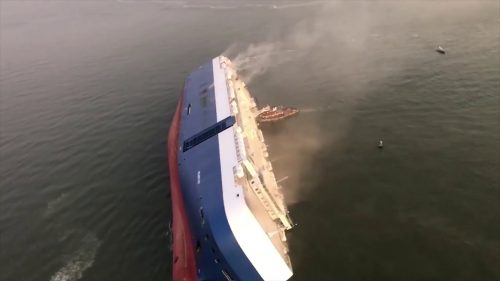 Three of the four missing crew members from the capsized MV Golden Ray have been extracted through a hole drilled in the side of the ship, the Coast Guard said on Monday. 
The operation to extract the fourth crew member was still underway as at press time. The Coast Guard said the remaining crew member is stuck behind glass in a control room. It was unclear how long it would take for his rescue, but hopes are high that the rescue will ultimately be successful. 
The three rescued crew members were reported to be in relatively good condition and were being treated at a local hospital.
The car carrier became disabled and capsized with a fire on board on Sunday morning in St. Simons Sound, Brunswick, Georgia.
The U.S. Coast Guard said it was notified at approximately 2 a.m. on Sunday that the 656-foot vehicle carrier Golden Ray was disabled and listing heavily with a fire on board in the St. Simons Sound. The ship had a total of 24 people on board, including 23 crew members and 1 pilot.
The Coast Guard reported on Twitter that it and other agencies had multiple rescue assets on scene and were in process of evacuating crew members from the vessel.