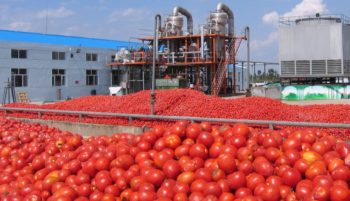 About N6 billion is currently expended annually in foreign exchange on tomato imports, the Director General of the Raw Materials Research and Development Council (RMRDC), Dr. Hussani Ibrahim has disclosed.
Speaking during the presentation of improved tomato seeds to vegetable farmers in Kaduan state on Tuesday, the DG said, "With an annual national domestic demand estimated at 2.4 million metric tons, only about 1.7 million metric tons is produced annually leaving a deficit of 700,000 metric tons due to cultivation of existing low yield varieties and high post-harvest losses.
The DG who was represented by the Director, Agricultural and Agro-Allied Department, RMRDC, Dr. Abiola Ogunwusi further observed that the policy on import of tomatoes has stimulated the establishment of new and emerging processing plants as well as the resuscitation of some hitherto comatose tomato concentrating plants.
He however advised that in order to operate the plants at optimal capacity and competitively, as well as satisfy the demand for table use, an additional five million metric tons of quality processing grade tomato fruits would be required.
He said access to improved seeds must be guaranteed in addition to adopting global best agronomic practices in production and handling.
He added, "Travel distance between the farm gate and the processing plants must be reduced to ensure competitiveness of domestic products. Through these efforts, the loss of good quality tomato would be minimized and it is for this reason that RMRDC came up with the initiative to develop tomato across the value chain with a view to solving the challenge of raw materials deficit in the sub-sector.
"The improved seeds presented are open-pollinated and therefor can be saved by the farmers in subsequent planting season. The improved seeds are also suitable for both raining and dry season farming and I want to encourage members of the Vegetable Growers Association who will cultivate these seeds to multiply them for further planting during the forthcoming dry season."
He urged the farmers to imbibe the lessons to be learnt from the training programme that will precede the presentation which is centered on best agronomic practices for the cultivation of tomato seeds.
The Commissioner, Kaduna state Ministry of Agriculture and Rural Development, Dr. Kabiru Mato who was represented by Jummai Ambi, a Director in the ministry said the government of Kaduna state is happy to collaborate with anybody bringing value to the state.
While noting that the state is revitalizing a lot of its value chains called on the research council to provide farmers with tomato seeds that continue growing for six months and not six weeks saying, "We are used to the six months seeds in Kaduna."
He added, "Value addition is key to the success of any product and it should not stop at production. Farmers should take advantage of dry season farming because that is where the money is."
The Chairman of the Takalafiya Tomato Farmer's Cooperative, Idris Dalhatu commended the initiative and urged his colleagues to take the advice given by the professionals with a view to increasing their yield saying, "We should not always wait for the government to intervene, we should use our initiative to improve on our source of livelihood."