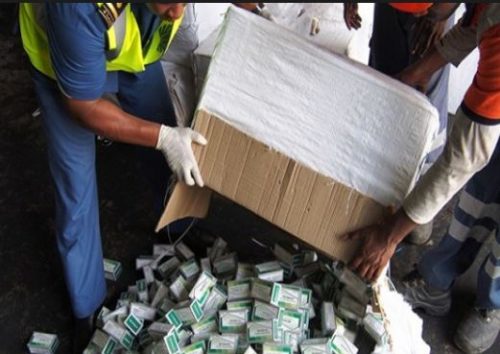 The National Agency for Food, Drug Administration and Control (NAFDAC) said it seized 45 containers of tramadol at various ports within between November 2017 and April 2019. 
Director, Port Inspectorate of NAFDAC, Prof. Samson Adebayo, who disclosed this in an exclusive interview with SHIPS & PORTS in his office on Wednesday, said five of the containers were tracked down in a West African country while others were seized at Apapa Port, Onne Port, Tin Can Island Port and Kirikiri Lighter Terminal, Lagos with the support of Nigeria Customs Service (NCS). 
He said, "Through intelligence, we were able to track five out of the 45 containers to a neighbouring country's port and we have written to the Presidency of that country waiting for the possibility of releasing the containers to us."
Adebayo said the reinstatement of the agency to the seaports and border stations by the Federal Government has enhanced its regulatory activities in curbing the importation of banned and substandard drugs into the country.
He said there was no way NAFDAC could be effective in its regulatory function of checking and preventing illicit drugs from entering into the country if it is not present at the ports.
"Our coming back to the port has enhanced our operation. Until recently, any individual can walk up to any pharmacy and buy tramadol with ease, but interestingly now, because of the tightening of the border and the seaports, adequate measures have been put in place to prevent the inflow of such prohibited substances. Now I understand a single card of 10 tablets of tramadol that used to sell for a very cheap price before has now gone up as high as N6,000 while a carton sells for as high as N2 million to N3 million. Why is it so? It is because of scarcity of tramadol.
"So our getting back to the port has actually helped in carrying out regulatory activities in a more effective and professional way. Unlike in the past when we were not at the port and our access to the port was restricted only on invitation or when we have intelligence; we have to write to the necessary body there. Now that we have direct access we can be part of any examination by virtue of the enabling act that set up NAFDAC.
"We give kudos to the Director-General who saw it as a challenge that if you want us to prevent inflow of unwholesome products into the country, we cannot be outside the point of entry and think that we can do any miracle to be able to get this done," he said.
Adebayo said apart from impounding fake and banned drugs, the agency is also making effort to ensure that the importers of prohibited substances are prosecuted. 
According to him, one of the challenges faced by the agency is arresting importers of fake drugs many of which he said give fake addresses on their declaration.
"We have written letter to the CBN Governor because we discover that most of the declarations on such consignments have false declaration of address of name or anything that is traceable to them.
"What we did as part of our effort was to go into the single window portal to get the form 'M' that was opened and through which bank. That was why we needed to contact the CBN governor and for the past three weeks we are still waiting for feedback," he said.
He advised the Corporate Affairs Commission (CAC) to put stringent measures in place to ensure that detailed and accurate information is collected when registering companies.