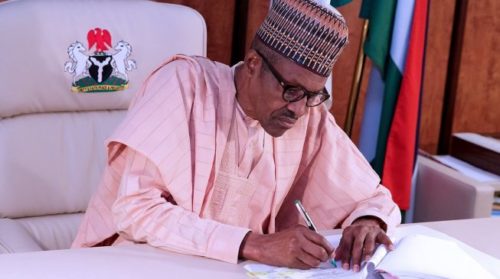 Barely six months after ejecting the National Transport Commission (NTC) Bill, President Muhammadu Buhari yesterday declined assent to two more bills – the Nigeria Inland Waterways Authority (NIWA) Bill and the Nigeria Tourism Development Authority (NTDA) Bill. 
President Buhari, in a letter he sent to the National Assembly and which was read by Senate President Bukola Saraki, faulted the NIWA Bill, which he said contradicts the provisions of the constitution and have issues with expected duties and functions.
He also said the funding of the Authority is "grossly excessive and will negatively affect the revenues of the federal government".
"The bill contradicts provisions of the constitution which limits the power of the National Assembly to make laws in relation to water from sources affecting more than one state of inland waterway which has been declared to be an international waterway or inter-state waterway.
"The bill, as currently drafted, subjects the Ministry of Water Resources, the Ministry of Environment and Nigeria Ports Authority to the supervision of the Nigeria Inland Waterways Authority,"President Buhari said. 
In rejecting the NTDA bill, the President said the bill contradicts the 1999 constitution.
He also faulted a tourism levy on all in-bound international travelers and out-bound travelers as well as a "tourism departure contribution fee of one percent per hotel room rate".
This, he said, will be inimical to the growth of the tourism and hospitality industry in Nigeria and constitute additional burden on the tourism business.
President Buhari has so far rejected about 20 bills passed by the National Assembly in the past six months. On December 19, 2018, he declined assent to the National Transport Commission Bill 2018 which aimed to transform the Nigerian Shippers' Council into the National Transport Commission. The president also declined assent to the Federal Roads Authority (Establishment) Bill 2018 the same day. 
According to Buhari, some sections of the National Transport Commission Bill contained safety regulations that would duplicate the functions of existing transport agencies.
"Safety regulatory provisions enshrined in some sections of the bill which are technical in nature fall within the purview of central legislation implemented by agencies like NIMASA (Nigeria Maritime Administration and Safety Agency (NIMASA), NPA (Nigeria Ports Authority and therefore should be expunged from the bill.
"Two, the percentage of the amount to be retained by the agency from royalties collected under section 19 (2)(d) should be reduced from 10 to five percent.
"Section 12 (9)(2)(d) stipulates that a portion of the proceeds from royalties collected by the authority empowered to collect royalties from transport service providers should not exceed 10 per cent which is collected by service providers and concessionaires.
"Three, section 19 (2)(f) which stipulates charge of three per cent freight tariff stabilisation fee on all imports and exports out of Nigeria including wet and dry cargoes should be amended and reduced from three per cent to one per cent.
"This is what is currently contained in the Nigerian Shippers Council legislation," Buhari had said.