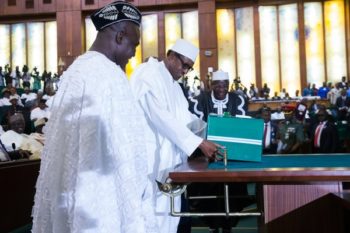 The National Assembly on Tuesday said it wants to extend the 2017 budget spending to May 31, pending the passage and presidential assent of the 2018 appropriation bill.
The Chairman of the House of Representatives Committee on Appropriations, Mustapha Dawaki, made this known at a joint public hearing on the national budget held at the National Assembly.
The Speaker of the House of Representatives, Yakubu Dogara, had last week said that the 2018 budget will be laid before both chambers on April 19 and passed on April 24.
Dogara said the harmonised date was decided by both chambers of the National Assembly. He further disclosed that the lawmakers had written to the Accountant-General of the Federation, Ahmed Idris, to extend the budget.
"We are told that the Office of the Accountant-General is expected to close the account as at March ending.
"We have written a letter yesterday, drawing his attention to the fact that the budget should be extended to May 31st. But if the passage of the budget, scheduled for April 24, is done and gets the president's assent, whichever comes earlier, then the Accountant-General should also strictly adhere to the contents of the letter," he said.
Dawaki further asked all contractors to continue working, adding that "budget account will not be closed until the budget is passed and accepted by the president or until the 31st of May, 2018."
The Senate President, Bukola Saraki, in his opening remark, noted that the Public Hearing on the budget as part of the enactment process has come to stay.
He explained that the National Assembly was concerned about government-owned enterprises whose operating surpluses have always been significantly lower than projections.
"Invariably, over the years, the performance of independent revenues has fallen short by at least 50 percent. While we work towards setting new performance standards for government corporations as well as developing stronger oversight frameworks to improve performance in independent revenues, we do expect more realistic projections of corporations operating surpluses," he said.
Saraki emphasised the need for the Finance Bill, urging the government to show clarity and consistency in its policies and to see how these will square up to its financial projections for 2018.
"While it is important to achieve equity and balance in the spread of development projects around the country, we must also prioritise human capital development. It is in this vein that the National Assembly will prioritise expenditure on critical health and education facilities as well as soft infrastructure," he added.   
Copyright Ships & Ports Ltd. Permission to use quotations from this article is granted subject to appropriate credit given to www.shipsandports.com.ng as the source.