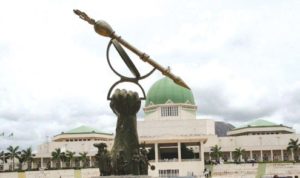 The National Assembly said on Friday that it has transmitted the final harmonised copy of the Petroleum Industry Governance Bill (PIGB) to President Muhammadu Buhari for assent.
The Chairman, Petroleum Upstream of the House of Representatives, Victor Nwokolo and his downstream counterpart, Comrade Akinlaja Joseph, disclosed to journalists that the President would have received the Bill as at the time of the interview.
The harmonised Bill was passed by both chambers in March 2018 but it could not be transmitted to the President by the Clerk to the National Assembly due to a legal advice received from the National Assembly Legal Services Directorate, which observed some grey areas in the versions passed by the two chambers.
Nwokolo said, "Everything has been cleared, it should be at the president's table today bearing in mind that we are going on break today.
"It has gone through all the processes and the issue raised by the legal department has been properly taken care of. So, there is no hindrance anymore. All that is left is for Mr President's assent."