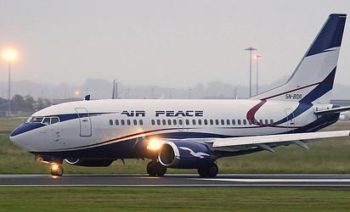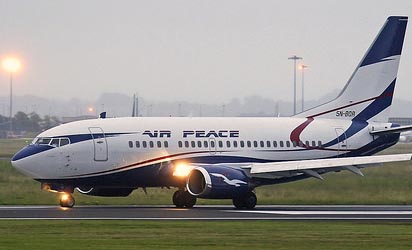 Cabin crew members on an Air Peace Lagos-Banjul flight, on Monday, foiled an attempt by two women (names withheld) to traffic a three-month-old baby boy to The Gambia.
The General Manager, Corporate Communications, Air Peace, Chris Iwarah made this known in a statement on Friday.
He said, "On Air Peace Lagos-Banjul flight P47560 on June 4, our vigilant and experienced crew observed a baby crying inconsolably.
"The crew members, therefore, approached the supposed mother to breastfeed the crying baby. She declined, giving a flimsy excuse for her decision.
"The alleged mother of the baby eventually asked our crew for water to give to the baby when he would not stop crying.
"Our crew members, however, observed that the alleged mother of the baby was struggling to give the baby the water.
"At that point, the crew offered to assist and took the baby from the supposed mother but when attempt was made to return him, the baby expressed fright and unwillingness.
"Given the situation, our crew summoned the alleged mother to the aft of the aircraft for questioning on her relationship with the baby."
The alleged mother reportedly claimed the baby boy was a product of a surrogacy arrangement and was being taken from Nigeria to Banjul in The Gambia. Unconvinced, the crew members were said to have notified their ground staff in Banjul of the development.
Upon arrival in Banjul, the two women travelling together with the baby were separately questioned and contradictions were said to have been observed in their different accounts.
Iwarah added that the crew had no choice than to report the case to security operatives at the Banjul International Airport, who took in the alleged mother of the baby for questioning to establish the true identity of the baby she claimed was hers.
He said the matter was still being investigated by relevant security agencies in Nigeria and The Gambia.
Iwarah said the airline would cooperate with the relevant security agencies to unravel the true identity of the baby, and assured that its vigilant crew would continue to ensure the safety of its guests.