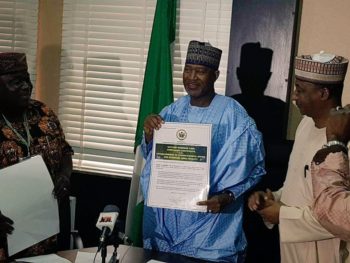 The Infrastructure Concession and Regulatory Commission (ICRC) on Tuesday approved the outline business case for the Aviation Leasing Company (ALC) and the Maintenance, Repairs and Overhaul (MRO) facility.
The facilities which are critical to the support of the proposed national carrier, are also expected to support local airlines and other airlines within the West African sub-region as these services are not available within the region.
The Acting Director-General, ICRC, Chidi Izuwah, while presenting the Outline Business Case (OBC) Certificate for the MRO and the ALC to the Minister of State Aviation, Sen. Hadi Sirika, noted that ICRC's "review of the CBC presented a compelling case for the establishment of an MRO in Nigeria.
He explained that the demand forecast study undertaken assured of a market that remained unserved locally, as more than half of the $3 billion annual expenditure by African airlines on maintenance is taken outside the continent.
He said, "Lack of an MRO has had a negative impact on the survival of airlines in the country as airlines have struggled to maintain their fleet or stay in business for consistently long periods as seen in other climes, due to the exorbitant cost of maintenance that isn't available locally and the time it takes to fly the aircraft for checks."
"OBC has justified the establishment of the ALC through a joint venture arrangement as the preferred public-private partnership (PPP) option.
"The review further presents a bankable and viable project that is expected to make profit from the first year of operation and sustain a positive growth projection."
Izuwah disclosed that both companies can break even in the first year of establishment thus it's an investment that is profitable.
Responding, the Minister of State Aviation, Hadi Sirika said "You cannot have a national carrier where maintenance will be done overseas. If that happens, you lose a lot of time, resources, technology transfer and deny your citizens jobs.
"So the MRO will serve as a maintenance facility for the national carrier, other airiness in Nigeria and West Africa."
He also noted that to have a leasing company in Nigeria meant our airlines will have access to cheaper aircraft and services for the growth of the industry.
He said, "Today we have received the outline business case of compliance for the MRO and ALC. These two are extremely important."
Sirika disclosed that the outline business case for the airport concessions and national carrier are ready and will soon go to the ICRC for certification.