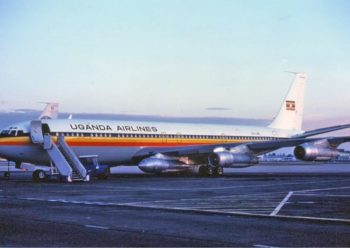 Uganda's President, Yoweri Museveni, has said the country would revive its defunct national carrier to share in the region's growing aviation business and invigorate its services sector.
Founded by Uganda's former dictator Idi Amin in 1976, Uganda Airlines was liquidated in the 1990s by Museveni's government under a broader programme to privatise troubled state firms and open up the economy to private enterprise.
In a speech to parliament on Wednesday, Museveni said he was now reviving the airline "to invigorate our services sector."
Regional giants Kenya Airways, Ethiopian Airlines and South African Airways dominate Uganda's air travel business.
"The Government will revive the Uganda Airlines. We have already booked slots for the manufacture of medium and long-distance planes," he said.
Museveni did not say from which manufacturer the planes had been ordered but transport and works minister has previously told local media they had ordered the planes from Canada's Bombardier.
Annually Ugandans spent $430 million on air travel, he said, describing it as a "hemorrhage that must stop."
Uganda is building a second international airport in its west primarily to service its emerging crude oil industry that is expected to boost a range of sectors including air travel.
Its sole existing international airport, Entebbe, south of the capital Kampala, is also being expanded with a loan from China to handle more passengers and cargo.
Agency Report