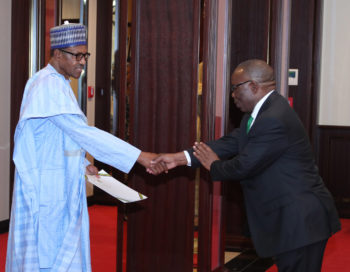 Tanzania's High Commissioner to Nigeria, Muhidin Moweto, has asked the Federal Government to deploy more Nigerian teachers to the country.
Forty-one teachers had been recently deployed by the Federal Government to the east African country under the Technical Aid Corps programme of the Ministry of Foreign Affairs.
Moweto made the appeal shortly after presenting his Letter of Credence to President Muhammadu Buhari at the Presidential Villa, Abuja.
The envoy also underscored the presence and positive roles of Nigerian firms in his country, particularly in the manufacturing and banking sectors.
He said, "My primary objective is to strengthen and enhance existing relations of both nations and to take our economic ties to a new height. We need more Dangotes (companies) in Tanzania to help in developing the country."
Moweto expressed the appreciation of the President of Zanzibar, a semi-autonomous region within Tanzania, to Buhari for the deployment of 41 Nigerians teachers in the region.
"The teachers are doing very well," Moweto said, appealing for the deployment of more Nigerian teachers.