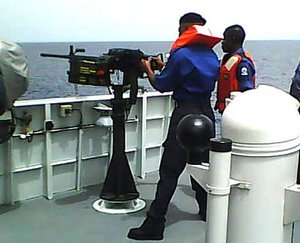 The Chief of Naval Staff (CNS) , Vice Adm. Ibok Ete-Ibas says the Nigerian Navy (NN)  would continue to protect the nation's maritime domain against crude oil theft and any other criminal activities.
Ibas disclosed this when the Commander, United States of America Naval Forces, Europe/Africa, Adm. Michelle Howard, visited him at the Naval Headquarters on Friday in Abuja.
He said the major task of the Navy was to ensure the safety of the nation's pride assets, the maritime domain.
Ibas said the Gulf of Guinea was paramount to Nigeria; therefore, the service would do everything possible for its security.
The naval chief also promised that the service would continue to tackle activities of militants in the Niger Delta.
In her remarks, Adm. Howard said the cooperation of Nigeria, especially in the area of maritime domain had become more and more vital "when you think about Nigeria's position as a regional leader".
"Your geographical location, population and economic power mean that you have a strategic and crucial place in global and regional politics.
"And this assertion is more and more certain. United Nations predicts that Nigeria will have the world's third largest population two decades from now.
"Your economy is likely to grow five times its current size in the same period, making Nigeria a regional engine for growth, "she said.
The commander acknowledged the fact that growth does not come without challenges, adding that the country's maritime domain would grow and be a better place for maritime activities.
"The maritime environment and threats to stability are: Oil extraction and production accounts for 75 per cent of Nigeria's revenue with the vast majority of oil infrastructure existing off shore or really close inshore.
"So, terrorism, criminal networks, illegal bunkering with damages of oil pipeline directly threaten Nigeria's economy.
"That is where Navy really comes in to salvage the situation by ensuring that the environment is secure enough devoid of any criminal activities in the maritime domain, "she said.
Howard regarded the NN as a key regional partner in securing the Gulf of Guinea.
She also sought to strengthen the existing relationship between the two naval forces by assisting the service in providing protection to Nigeria's future for economic security and enhancing regional stability.
She presented a Meritorious Service Medal to Capt. Kolawole Oguntuga by the US president, Donald Trump.
Trump said the medal was presented to him for his outstanding meritorious service as Assistant Naval Attaché Embassy of the Federal Republic of Nigeria from Jan. 2014 to Jan. 2017.
Trump said Oguntuga's extraordinary personal contributions greatly enhanced understanding, improved cooperation, and strengthened relationships between the two naval forces.