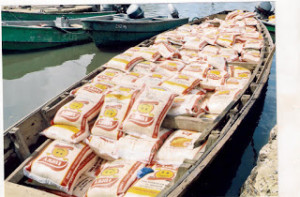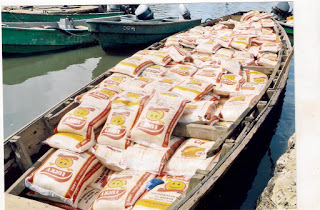 The Nigerian Navy, Forward Operating Base, Ibaka, Mbo Local Government Area of Akwa Ibom State said it has impounded 759 bags of rice smuggled into the country from Cameroon.
Briefing newsmen on Tuesday, the Commanding Officer, FOB, Navy Captain Yusuf Idris said the suspected smugglers were apprehended at high sea on Tuesday around 3am following a tip-off within the nation's territorial waters.
He said  "On January 30, the men of the Forward Operating Base, Ibaka, acting on a tip-off, intercepted and seized a large wooden boat loaded with 759 bags of rice. We also arrested three suspected smugglers along with the items.
"In line with the harmonised standard operating procedures, the Nigerian Navy, today handover the suspects and the items to NCS for investigation and further necessary actions.
"The Nigerian Navy, FOB, warn the would-be smugglers and other maritime offenders like sea pirates, illegal oil bunkerers and their likes to keep away from Nigeria maritime environment as the current leadership of navy will hunt for them wherever they may be".
Idris assured good and legitimate users of the sea of navy protection and assistance to carry out their legitimate businesses with a view to enhancing the economic prosperity of Nigeria
He advised the intended smugglers to stay out of Nigeria maritime environment, noting that the present leadership of the Nigeria Navy will hunt them wherever they may be.
The illegally imported bags of rice including the suspects, Yahaya Balaribe, 32, from Borno State; Godwin Owoyemi, 23 and Michael Aderemi, both from Igbokoda area of Ondo State have also been handed over to the Nigerian Customs Service.
Speaking the during hand over, Comptroller, Eastern Marine Command, Nigeria Customs Service, Port Harcourt, Ajiya Masaya, said the fight against smuggling is a collective responsibility of every Nigerian to protect the country's industries and also to safeguard the health of Nigerians from consuming toxic foreign goods.
According to Masaya, smuggling is sabotage to Nigeria's economy, adding that any nation that allows smuggling cannot grow its economy.
He thanked the Navy for collaborating with Customs to curtail the continued and spread of smuggling within the Nigeria maritime environment.
He said, "Fighting smuggling cannot be left only for Nigeria Customs Service. Everybody has a duty to stop or reduce the menace. Smuggling is a sabotage. It is a fact that any nation that allows smuggling cannot grow.
"As I said, fighting smugglers is not only for Customs; everybody has a role to play. Please, as a member of the community, rice is still a contraband item; 2018 fiscal policy that recognises imported rice as a contraband good, is still in force.
"I am seriously giving you a note of warning about maritime business. There are so many ways of doing legitimate maritime business, not smuggling. Don't say we are handicapped, other security agencies, especially the Navy, are with us. Any time we ask them for assistance, they respond immediately. Smuggling is dangerous to a country's survival and prosperity."
One of the suspects, Balaribe, said he had been working on the boat since November 2017. He explained that as a worker in the boat, his duty was to upload and deliver the imported goods to their customers wherever they might be.
"I work on the boat. I have been working in the boat since November 2017. The bags of rice are from Cameroon. I don't know that imported rice from other countries to Nigeria is a contraband item.
"We are never told; our work is to convey the goods to their destinations. Our duty is to bring the rice here, the owner of the consignment, that is one Mr. Ade, is supposed to come here and take his delivery for onward distribution to his customers. We have not heard from him since we arrived here," he said.