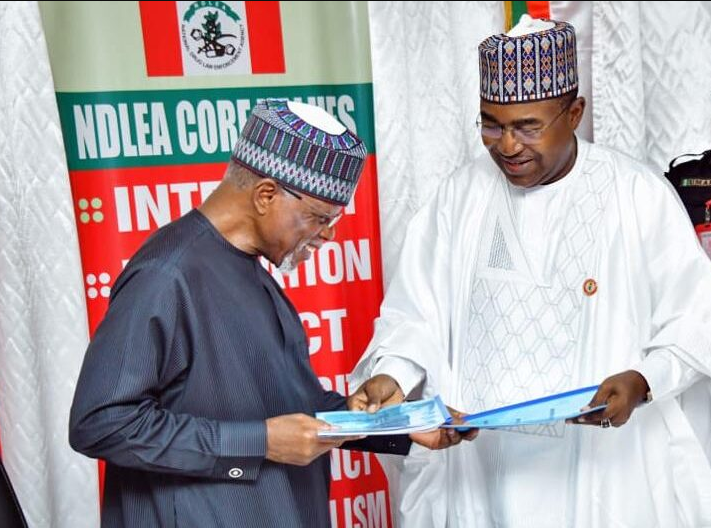 Chairman of the National Drug Law Enforcement Agency (NDLEA), Mohamed Buba Marwa and the Comptroller General of Customs, Hameed Ali, on Tuesday signed a memorandum of understanding to enhance the ongoing onslaught against illicit drugs in the country.
Speaking at a brief ceremony at the NDLEA headquarters in Abuja, Marwa expressed his delight at the decision by the two government agencies to document their working relationship in an MoU.
"This is certainly a benchmark for information and or intelligence sharing. It is also a platform for sharing of operational and administrative experiences with a view to adopting best practices that work. With this united front, there can only be one assurance that the criminal elements in our society will definitely be the losers and I assure you that they will certainly lose big as we come for them to put them where they rightly belong and cripple their crime syndicates.
"While there is no doubt as to the benefits that this MoU will provide to our two services and the nation at large, it is my hope that its successful execution and implementation will provide the necessary impetus for extension to other sister law enforcement agencies (LEAs) operating at our airports, seaports and land borders. On this basis, it is imperative to drive the implementation of the MoU to ensure that its objectives and derivable are achieved.
"Therefore, on behalf of the NDLEA, I assure you of our commitment to this MoU and intend to provide all the necessary support required to drive the implementation process in order to ensure the realization of all accruable benefits. As it is usually said, together we stand and remain undefeatable," he said.
On his part, the Customs Comptroller General, Hameed Ali said, "This MoU is sending a very strong signal to fighting crime. We believe that coming together shows commitment to saving this nation from drugs and other substances. I want to take this special opportunity to thank my senior for initiating this MoU.
"The essence of our being here has been underscored by my brother, but I want to reiterate that our coming together does not send a signal only to our nation but to the international partners, that we are committed to protecting our borders from illicit drugs. We have all along been doing this, finding drugs in the borders, but thank God the sole responsibility has been removed from us, and we had some relief. What we do now is that when we arrest the suspects, we hand them over to the NDLEA, where they will be pursued, investigated, and punished severely."
Copyright Ships & Ports Ltd. Permission to use quotations from this article is granted subject to appropriate credit given to www.shipsandports.com.ng as the source.