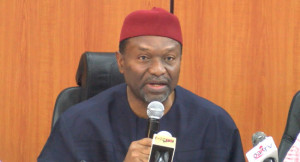 The Minister of Budget and National Planning, Udo Udoma, on Tuesday, disclosed that the first phase of the Nigerian Economic Recovery Programmes (NERGP) Focus Labs has prospects for creating over 513,981 jobs by 2020.
Udoma made the disclosure while speaking at the NERGP Focus Labs Open Day Ceremony in Abuja.
He added that the labs had also identified over $22.5 billion investment potentials across the country's six geopolitical zones and that about $10.9 billion worth of private sector investments are categorised under the 'most ready to go' group.
Udoma explained that the jobs would be generated from the execution of about 164 different project streams in the six core sectors considered during the various lab sessions as most viable in the economy.
According to the minister, about $4.73 billion worth of investments was identified in the agriculture and transport lab with a potential to create about 129,000 jobs.
In the manufacturing and processing sector, about $9.25 billion worth of investments were identified, with about 378,000 new jobs expected to be created.
Investment opportunities identified in the power and gas sectors were valued at about $8.57 billion, with the potential to create about 7,200 jobs.
In addition, Udoma said the multi-phased ERGP focus lab has the potential to generate cumulative investments/projects and jobs valued at about $39.4 billion and over 716,079 jobs by 2025.
The minister said the focus labs held over a six-week period between March 12 and April 22 were part of initiatives under the Economic Recovery and Growth Plan (ERGP) to identify sectors with potentials to drive speedy economic recovery.
Vice President Yemi Osinbajo in his speech, expressed satisfaction that the outcomes of the various labs showed the objectives were largely achieved.
He said apart from identifying projects that could be developed to create jobs, the focus labs have fast-tracked the resolution of the regulatory bottlenecks to investments in the country.
Osinbajo said the Federal Government was committed to continue to support all efforts to development investment opportunities to help create jobs and grow the economy.
Ministers of focus ministries, namely agriculture and rural development; transportation; industry, trade and investment; solid minerals; power, works and housing; petroleum as well as finance, participated at the labs.