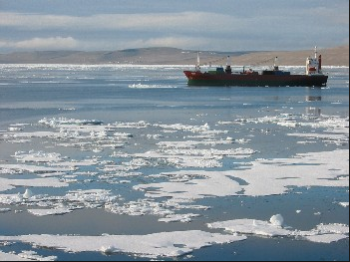 A new three-year research project, funded by the EU's Horizon 2020 programme, has been launched to address safety and efficiency in Arctic ship operations. SEDNA will develop a novel risk-based approach to Arctic navigation, ship design and maritime operations.
Recent years have seen a rapid increase in shipping operations in Arctic regions, as ice cover has reduced due to global warming. While this offers the potential to save significantly on voyage times, the harsh environment poses new challenges to seafarers and vessels: extreme temperatures, icing of vital equipment, remoteness, fast-changing sea ice covers and a lack of search and rescue infrastructure are very real risks to passengers and crew. These challenges are exacerbated by a lack of accurate sea ice forecasting, an absence of ship bridges specifically designed for the Arctic and – quite frequently – a lack of Arctic-specific training for the navigation crew. SEDNA is addressing these problems in a variety of ways. Firstly, it will develop the 'Safe Arctic Bridge', a human-centred operational environment for ice-going vessels. Its design and layout will focus on the navigational requirements of the Arctic, namely ice, weather and a lack of chart data. The Safe Arctic Bridge will use augmented reality to improve situational awareness and to support the crew in their decision making. It will be developed and tested in a virtual bridge prototyping system.
Secondly, SEDNA will develop anti-icing solutions for vessels' superstructures. The build-up of ice on a ship can pose a serious risk to safety, as it affects stability and may render important equipment (like antennas, hatches and life boat davits) unusable. To prevent this, SEDNA will mimic the excellent water-repellent properties of penguins' feathers with a combination of a special surface texture and an oil-based coating. In addition, energy-efficient electro-thermal systems will be used. These solutions will be tested on a real ice-going vessel.
Thirdly, SEDNA will develop a risk-based design framework for ship safety, including the definition of hazard scenarios, their likelihood and their expected consequences. In particular, this will take into account ice loads and their effects on ships. This aspect of the project will be based on the work of the LRF Centre of Excellence for Arctic Shipping and Operations and is expected to contribute to future development of the International Maritime Organization's Polar Code.
In addition, SEDNA will integrate dynamic meteorological and oceanographic data with real-time ice movement predictions and ship performance data to allow for an optimisation of Arctic voyages. In particular, this will lead to the creation of new regional weather and sea ice probability forecast products and ship-based ice monitoring systems. These solutions will provide routing decision support and help to optimise Arctic voyages in terms of safety and fuel efficiency.
Lastly, SEDNA will propose a CEN Workshop Agreement on a process to systematically address safety during bunkering of methanol as a marine fuel. This will include technical provisions and an assessment of safety risks for three bunkering scenarios: truck to ship, shore to ship and ship to ship. A particular focus is on the use of low flash point fuels in Arctic shipping operations.
SEDNA started in June 2017 and will run for three years. Its total budget is around €6.5m. The project is led by BMT Group Ltd (UK) and brings together 13 partners from six different countries, including China. The partners are University College London (UK), Chalmers University of Technology (Sweden), Atkitektur – og designhøgskolen i Oslo (Norway), University of Southampton (UK), MET Office (UK), Cork Institute of Technology (Ireland), Aalto University (Finland), Lloyd's Register EMEA (UK), Aker Arctic Technology Inc. (Finland), Stena Rederi AB (Sweden), Dalian University of Technology (China) and Harbin Engineering University (China).
Source: SEDNA.