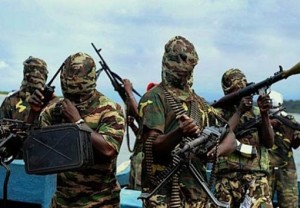 The Niger-Delta Avengers yesterday cautioned President Muhammadu Buhari against dealing with those it described as 'sycophants' in the area.
While threatening more destruction of oil pipelines, the group's spokesmen, Mudoch Agbimbo in a statement chided President Buhari over his alleged romance with some of his cabinet members who he described as 'sycophants'.
Challenging the President to visit the region, rather than relying on information from his aides and political friends, the group stated; "You cannot view Niger-Delta with disdain while you treat your brothers that are terrorists and kidnappers (Boko Haram) like kings and queens by committing the Informational Red Cross and Red Crescent Movement from Geneva to witness your transactions with them, before they released their hostages to you."
The statement also called on the president to lead the Federal Government dialogue and negotiation with them (Avengers) in the team of neutral international observers and representatives of international oil companies as the only way to broker the truce and avoid ethnic jingoism and sentiments.
Part of the statement reads; "We are disposed to dialogue, but we want Mr. President to come down and negotiate with us rather than using his political aides who are "sycophants" who will be feeding him with wrong information, we will not take such from Mr. President, we want him to interface us, as a way forward to providing lasting situation to the Niger-Delta crisis, we will not interface political "sycophants".
Meanwhile, the president of the Ijaw National Congress, Chief Boma Obuoforibo, has said that the Niger Delta stakeholders will not give the federal government an ultimatum or a time frame to implement their demands for the development of the region, adding that the stakeholders were optimistic that the president would not renege on his promise to alleviate the sufferings of Niger-Delta people.
His words; "We are going to be negative about the ability of the federal government to implement the demands because we have a positive mindset and we have never reached this length in the past, we are doing all this in good faith".
Copyright Ships & Ports Ltd. Permission to use quotations from this article is granted subject to appropriate credit given to www.shipsandports.com.ng as the source.