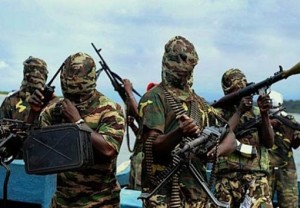 The Niger Delta Avengers (NDA) on Saturday announced that tough times await both local and international oil companies operating in the Niger Delta region following the Federal Government alleged refusal to dialogue with the people of the region.
NDA which wreaked havoc on the nation's oil facilities last year said the President Muhammadu Buhari-led administration was not interested in the proposed dialogue with its representatives under the Pan Niger Delta Forum, a forum comprising traditional rulers and other prominent leaders from the region.
Spokesperson of the militant group, Mudoch Agbinibo, in a statement sent to the media on Saturday, said  2017 would be filled with surprises and a reconfiguration of the struggle for the liberation of the region as it plans to resume hostilities with the launch of 'Operation Walls of Jericho and Hurricane Joshua' in the days ahead.
Different from its usual tactics, the militants said targeted attacks on oil facilities in 2017 would come unannounced as it accused the Federal Government of declining to negotiate with the region.
The statement read, "Since, the declaration of cessation of hostilities in the region by all fighters and affiliates, it has been evidently clear that the Nigerian state is not ready for any form of dialogue and negotiation with our people to addressing the issues sustaining the unending sufferings and deprivation of the people of the Niger Delta.
"The world is aware that, after listening to calls from our Royal Fathers, Community Leaders, Stakeholders and members of the comity of nations especially the governments of the United States of America, Great Britain and the European Union, we halted all actions. This prospect for hope for a genuine dialogue and negotiations have been dashed and rejected.
"The world knows that PANDEF as team of critical stakeholders was mandated to engender a genuine dialogue and negotiations process that will be made of apolitical committed Niger Deltans to engage with the government and people of Nigeria, representatives of the International Oil Corporations and neutral observers.
"But this government decides to go around to politicising and blackmailing the process to forestall any genuine dialogue and negotiations. The world should be assured that, our next line of actions to redeem Operations Red Economy will be unannounced with surely overwhelming signatures to this government and humanity.
Copyright Ships & Ports Ltd. Permission to use quotations from this article is granted subject to appropriate credit given to www.shipsandports.com.ng as the source.