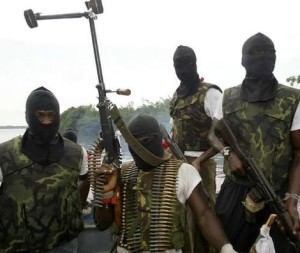 SOME militants were suspected to have lost their lives when troops of the Operation Delta Safe bombed a militant camp at Okosugbene Creek, along Burutu-Warri River, near Burutu, Delta State, with two fighter jets and about seven gun boats for nearly an hour on Thursday.
Reports from the area said that soldiers, who struck at about 6.00 am caught the militants unawares.
But while a source said it was an abandoned militant camp belonging to the Movement for the Emancipation of the Niger Delta, MEND, another hinted that it was occupied by sea pirates.
Information about the casualties of attack was still unclear at the time of this report, but the raid caused tension among riverine dwellers.
They ran helter-skelter at the sound of heavy gunshots. Another informant said the militant camp is located at Lapala village, near Burutu.
However, a youth leader from Burutu community, who confirmed the attack, said: "I heard several gunshots on Thursday morning from the community."
"From our findings, we discovered that the military had invaded the gathering of suspected militants, who had converged on the community in what could be likened to a militant camp."
Shedding light on the raid, a senior operative of the Department of State Security, DSS, said: "There were intelligence reports that suspected militants are converging on the area.
"Troops from the Operation Safe Delta were drafted to engage the militants and dislodge the camp located at an area known as 9000 Junction," he said.
At about 9.00 am, former chairman of Burutu community, Jonathan Ogodobiri, who spoke on phone, asserted: "There are no army troops within Burutu town but the entire waterways is under siege. There is a massive presence of army personnel patrolling the river as I speak with you."