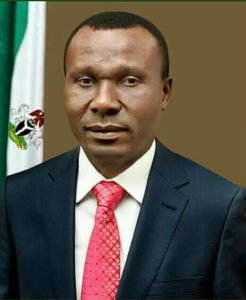 The Minister, Ministry of Niger Delta Affairs (MNDA) Usani Uguru on Tuesday said they have received a draft report for 2017 to 2019 work plan that would guide the activities and programme of the ministry.
Usani who made this known at the third quarterly meeting with governors of the nine States of the Niger Delta with the Executives of the International Oil and Gas companies in the region said the report by the technical committee would not only help them to know what to do but how they will do it, where they will do it and who will do it.
Usani said whatever they put in serves as input to the response which the government is given to the demand of the people of the region.
"People should not wave the work plan aside because there is master plan and action plan but here we say working plan and the intent of this is to establish what to be done, where and by who? Of course the engagement period between 2017 and 2019 so, within these two years we want to access our performance and by the in international oil companies, local oil companies and agencies of development in the region so that we can juxtaposition our performance against the set objectives and set goals. This will enable us to see at a glance what everybody is doing."
The Minister said the meeting platform was established in line with the responsibility of the ministry to coordinate development programmes and affairs of the Niger Delta Affairs with all parties carrying out developmental projects while adding that the essence is to see that whatever any party is doing in terms of developing the region, every other party know and that will then be the bases for the formulation for everybody to be sure we eliminate duplication thus waste of resources.
The special adviser to the president on Niger Delta Affairs, Rtd. Brigadier-General Paul Boroh at the meeting said, part of the strategy is not to focus on the oil and gas but to see how we can begin to diversify things that are put their in the Niger Delta so that it does not revolve just around the oil and gas industry.
He said the States have huge responsibilities to do thing in the States which they exist. "It is a platform for collaboration. We must know the programmes of the states too so that we will not duplicate them.
The Executive Secretary Nigeria Content Development and Monitoring Board (NCDMB)said, they are trying to develop industrial park in most of the Niger Delta states with the objectives of providing services and 24/7 gas fire electricity in the region.
"This is to help manufactures come and set up their concerns and bring down their cost of manufacturing in doing business. That is what we are doing currently in a place like Imo and Ondo States. We are discussing with oil industries to partner with us. We are also not limited to the Niger Delta alone because we are for the whole country. We are intervening in the North East with reconstruction programme to see what we can do for people to be engaged.If we can get it to the next level by really analyzing all the developmental effort of the different agencies midwives by the Federal Government I think we will come out with a different narrative in terms of all the effort this present administration is doing to uplift the lives of the people in the Niger Delta."