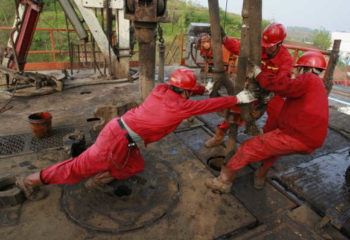 Angolan differentials were underpinned on Tuesday by strong refining margins while Nigerian trade was thin as traders waited for several tenders to be awarded before showing their hand.
Angola
* Roughly a dozen cargoes were left available from the September programme as buyers continued to seek medium and sour crude grades.
* State firm Sonangol was still marketing about three cargoes: an Olombendo loading Sept. 22-23, a Nemba loading Sept. 15-16 and a Hungo loading Sept. 16-17.
* Total was offering two cargoes: a Dalia at dated Brent minus 20 cents a barrel and CLOV at dated Brent plus 60 cents a barrel.
* The differential for heavy, sour Dalia has climbed steadily in the last few months on the back of OPEC cuts that mainly impact heavy and sour crude availabilities. The grade usually trades at least a dollar or two below dated Brent but has inched close to dated Brent flat in the last week.
* Strong refining margins for middle distillates in Asia and Europe have further boosted demand for heavier grades.
Nigeria
* Fewer than 10 cargoes remain from the August programme.
* ExxonMobil offered a cargo of Usan at dated Brent minus 40 cents a barrel.
* Other sellers stayed on the sidelines waiting for several Indian refiners to award tenders.
* Bonny Light exports were still under force majeure with both export pipelines now under repair.
Tenders
* India's HPCL was running a tender to buy West African crude loading Sept. 1-15 that closes on Wednesday.
* India's BPCL has a buy tender for west African crude Aug. 26 to Sept. 5 closing on Thursday.
Related News
* Shell's Nigerian subsidiary has shut its 180,000 barrel-per-day Trans Niger pipeline in Nigeria due to a leak, the company said in a statement on Monday, effectively shutting in exports of Bonny Light crude oil.
* Nigeria's President Muhammadu Buhari will return to his official duties as soon as doctors advise that he can end his medical leave, according to a statement from the presidency on Tuesday.