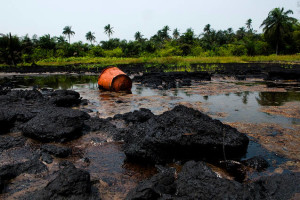 Ogale and Bille communities in Rivers state have vowed to appeal the decision of a United Kingdom high court to halt the claims of pollution made against Royal Dutch Shell.
The communities say they cannot get justice in Nigerian courts, saying they have more faith in the British legal system.
The UK high court had on Thursday ruled that Shell cannot be sued in the UK for the systematic pollution carried out by its Nigerian subsidiary, Shell Petroleum Development Company of Nigeria (SPDC).
Following the ruling, King Okpabi, paramount ruler of Ogale community, said he's confident that the UK court of appeal will rule differently on the matter.
He said, "Our community is disappointed but not discouraged by this judgment and we are confident that, as in the Netherlands, the Court of Appeal will see things differently.
"Royal Dutch Shell makes billions of dollars of profit each year from Nigerian oil but our communities which host its infrastructure have been left environmentally devastated.
"This decision has to be appealed, not just for Ogale but for many other people in the Niger Delta who will be shut out if this decision is allowed to stand.
"Shell is simply being asked to clean up its oil and to compensate the communities it has devastated. That is not an unreasonable request but Shell will not even meet with us.
"Shell underestimate us if they think this judgment will affect our resolve. There is no hope of justice in the Nigerian courts. We still very much believe in the British justice system and so we are going to appeal this decision."
Speaking in the same vein, Chief Temebo, spokesman of Bille council of chiefs, said his community will continue to "fight" for justice.
"We are disappointed by the news of the judgment, but we will continue to fight with all our might. The Bille people have been pushed against the wall by Shell for too long. We will appeal the judge's decision.
"If the claim does not continue in the English courts, we have no hope that the environment will ever be cleaned up and the fish will ever return to our waters. Shell will do nothing unless they are ordered to by the English courts," he said.
Law firm, Leigh Day, is representing over 40,000 Nigerians from both communities.
Amnesty International, meanwhile, has said the judgment could rob the villages of justice and "allow UK multinationals to commit abuses overseas with impunity".
"The Ogale and Bille communities have been hit by multiple Shell spills, threatening their health and drinking water. The UN found groundwater contamination in Ogale was more than 450 times the legal limit – when Amnesty investigators went back four years later, Shell still hadn't cleaned up the pollution. This ruling could mean that the communities will never receive meaningful compensation, and that the oil spills will be not be properly cleaned up," said Joe Westby, campaigner on business and human rights at Amnesty International.
"This ruling sets an especially dangerous precedent. If it stands, then the UK Courts have given free rein to multinational companies based in the UK to abuse human rights overseas. Poor communities and developing countries will pay the price. We hope and expect that the court of appeal will overturn this decision to show that the UK justice system will provide remedy to impoverished communities who suffer serious abuse caused by UK corporations."
Copyright Ships & Ports Ltd. Permission to use quotations from this article is granted subject to appropriate credit given to www.shipsandports.com.ng as the source.