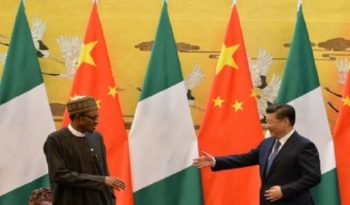 Trade between Nigeria and China stood at 9.5 billion dollars in 2016, according to the Economic and Commercial Counsellor of the Chinese Embassy, Zhao Linxiang.
Linxiang gave the figure at a dinner to host participants of different training courses in China on Friday night in Abuja.
The envoy said though bilateral relations between both countries faced challenges, Nigeria remained China's fourth largest trading partner in Africa.
"In the first 11 months of last year (2016), our bilateral trade reached 9.5 billion dollars. It is a great achievement under the current condition the Nigerian economy is.
"So far, China's total investment in Nigeria reached 2.2 billion dollars and Nigeria is China's important destination in Africa.
"Our investment cooperation is expanding.
"A large number of Chinese investors and enterprises are concentrated in Nigeria and cover various fields like oil and gas exploration, free trade zone project, steel processing, manufacturing, agriculture, broadcasting and pharmacy among others,'' the counsellor said.
He added that implementation of the 10 major China-Africa cooperation projects, which began in 2016 was progressing.
The envoy said it was important for both countries to promote win-win cooperation, seek common development goals and maintain high-level exchanges.
Linxiang reiterated China's commitment to work with Nigeria to strengthen mutually beneficial cooperation and promote Nigeria's industrialisation and agricultural modernisation.
According to him, both countries can better enhance cooperation in the area of capacity building.
"We will provide more training and scholarship for Nigerians under the framework of `1000 People Plan'.
"The friendship between both countries needs more publicity,'' he said.
The envoy said the Chinese Government offered training opportunities to 3,200 Nigerians in the last decade, adding that 260 officials participated in different training opportunities in China in 2016.
"Last year, we held the 2016 China-Nigeria Agricultural Technical Training programme; 40 Nigerian officials and technicians got trained in Abuja.
"This is a historical beginning which means we can achieve better results through providing localised courses,'' he said.
Also speaking, the Minister of State for Budget and National Planning, Mrs Zainab Ahmed, said the relationship between both countries was beneficial.
"China has been in several developmental places in Nigeria,'' Ahmed added.
The minister further remarked that continued engagement with the right partners would bring Nigeria out of its current economic situation.
"Our focus is to develop infrastructure required to ease the difficulties of doing business in our country and the Chinese companies working in Nigeria are set to help us in deploying those projects.
"We will be reaching out to you to make sure that some of the projects that we have started discussing are crystallising within the shortest possible time,'' she said.
Mr Stephen Anayo, who spoke on behalf of the trainees, said that Nigeria could learn from China's development.
Anayo urged the Chinese Government to sustain the training opportunities, adding that it would promote capacity building and boost development in the country.
"Transfer knowledge is the best a partner or friend can do for another; China is considered as one of Nigeria's allies.
"When people are knowledgeable, they know what to do and do it right,'' he said.
He called on other participants to utilise the knowledge acquired for the development of the country. 
Copyright Ships & Ports Ltd. Permission to use quotations from this article is granted subject to appropriate credit given to www.shipsandports.com.ng as the source.