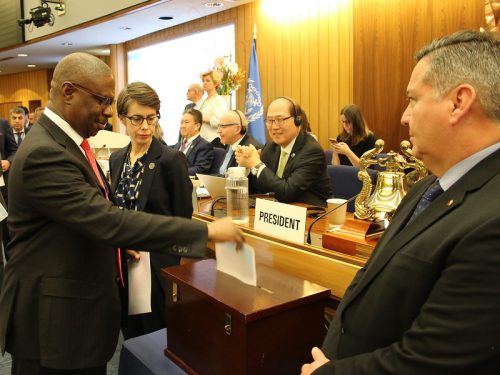 Nigeria yesterday recorded another shoddy and near shameful outing at the International Maritime Organisation (IMO) Assembly in London with the loss of its much touted bid for election into Category C of the global maritime body's Governing Council.
This is the fourth consecutive time Nigeria is losing its quest to get elected into IMO Council, which is the decision-making body of the United Nations specialised agency responsible for regulating the global maritime industry.
The last time Nigeria won the IMO Council election was in 2009 under Temisan Omatseye, who was then Director General of the Nigerian Maritime Administration and Safety Agency (NIMASA) and every attempt made since then to return to the Council had failed.
The last two failed attempts were led by the Minister of Transportation, Rotimi Amaechi and his protégé, the Director-General of NIMASA, Dakuku Peterside.
40 countries were election by the IMO Assembly into the Governing Council for the 2020-2021 biennium. 10 were elected into Category A, 10 into Category B and 20 into Category C.
The countries elected into Category A, consisting of countries with the largest interest in providing international shipping services are China, Greece, Italy, Japan, Norway, Panama, Republic of Korea, Russian Federation, United Kingdom, and the United States.
Those elected into Category B, made of countries with the largest interest in international seaborne trade include Argentina, Australia, Brazil, Canada, France, Germany, India, the Netherlands, Spain and the United Arab Emirates.
Category C members are those that are not eligible for election into either Category A or B. They are countries that have special interests in maritime transport or navigation and whose election to the Council will ensure the representation of all major geographic areas of the world. Those elected under the category include Bahamas, Belgium, Chile, Cyprus, Denmark, Egypt, Indonesia, Jamaica, Kenya, Kuwait, Malaysia, Malta, Mexico, Morocco, Peru, the Philippines, Singapore, South Africa, Thailand and Turkey.
Nigeria's delegation to the IMO Assembly, which meeting from November to December 4 in London, include the
Minister of State for Transportation, Gbemi Saraki; Chairman, House Committee on Maritime Safety, Education and Administration, Lynda Chuba-Ikpeazu; Director General of NIMASA, Dakuku Peterside and Managing Director of Nigerian Ports Authority (NPA), Hadiza Bala Usman, among others.