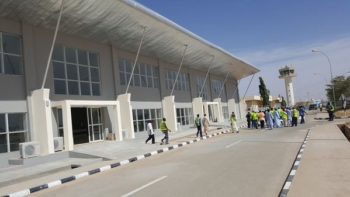 Two days before Nigeria shuts down Abuja's airport for repairs to its dilapidated runway, workers still need to fit electrics, seating and toilets to a new terminal at Kaduna, which will handle the capital's air traffic but lacks capacity.
International airlines that fly into Abuja have already refused to use Kaduna, a provincial city airport, because of security worries, and domestic passengers could face major delays if the new terminal is not ready, discouraging travel and isolating the capital.
Most floor and ceiling tiles have been fitted and all air conditioning units have been installed, but electrical fittings are unfinished, chairs for the arrival and departure areas lie strewn about and a car park expansion is incomplete.
"Contractors are working day and night," said an official from the Federal Airports Authority of Nigeria (FAAN) who is not authorised to talk publicly on the matter.
A contractor said staffing levels at the terminal building site had increased since mid-February. A Reuters reporter who visited the site several times between March 3-5 counted about 50 builders on the site, compared with about 30 in January.
Kaduna airport officials have said the existing terminal will be used if the new site is not ready and can handle up to 500 passengers at any one moment – equivalent to three or four short-haul jets. Some critics of the plan say that number is inflated.
The road network in Nigeria, Africa's largest economy covering an area about twice the size of California, is in poor condition and more affluent travellers rely on air travel to cover the long distances.
In a sign of the logistical challenges ahead, data from Nigeria's airport authority shows Abuja airport handled 4,859 domestic flights in December compared with the 171 that flew in or out of Kaduna.
Kaduna airport is located in a restive area plagued by insecurity and kidnappings. Airlines including British Airways , Lufthansa and South African Airways have refused to fly into Kaduna. Ethiopian Airlines has said it will use the alternative airport.
"Roads leading to the airport have undergone renovation," said the FAAN official, adding that extra police had already been deployed along the main road on which passengers will be able to travel in buses, guarded by security.
Nigeria has postponed an Abuja trade conference meant to drum-up investment, underlining the potential impact to business from the six-week closure.