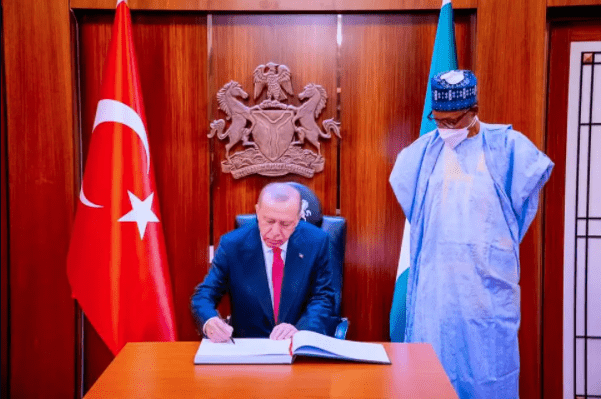 Turkish President, Recep Tayyip Erdogan, on Wednesday expressed hope that the value of trade between his country and Nigeria would expand to USD5 billion "immediately".
Speaking when he addressed journalists at the end of a closed-door bilateral meeting with President Muhammadu Buhari at the State House, Abuja, on Wednesday, Erdogan also expressed hope that the relations between the two countries would be further developed on the basis of a win-win situation and in the basis of mutual respect.
The Turkish leader also expressed the readiness of his country to partner with Nigeria in tackling its security challenges.
"We hope and pray that we will be expanding our trade volume up to 5 billion dollars immediately. We hope and pray that the relations between the two nations would be further developed on the basis of a win-win situation and in the basis of mutual respect.
"As Turkey, we have been closely monitoring the development in Nigeria – our brotherly and friendly nation. The terrorist organizations, the armed gangs and the marine vendors are continuously active in Nigeria and the Nigerian authorities are continuously fighting them.
"In order to cooperate further in the field of military operations, defence and security, we are doing everything that will be available. We are ready to share our capabilities, even extending capacities as Turkey with Nigeria especially in the field of defence industry and security, which are being praised by the globe.
"The sensitivity we show in fighting terrorism, I hope it will be reciprocated by our Nigerian brothers and sister and our counterparts. The perpetrators of the heinous failed coup of July 15, FETO, are still very active in Nigeria. And we are continuously sharing our intelligence with Nigerian interlocutors and authorities," he said.
In his remarks, President Buhari heaped praises on Erdogan for opening his country's borders to accommodate millions of refugees in dire need of humanitarian support.
Buhari said the Turkish leader has set an example for the rest of the world on how to treat refugees.
He said, "I commend Your Excellency for your leadership and generosity in receiving and accommodating four million refugees fleeing from conflict areas particularly in Iraq, Syria and Afghanistan."
The Nigerian leader described the two-day visit of President Erdogan and the First Lady, Emine Erdogan, as a reflection of the robust, warm and cordial bilateral relation between Nigeria and Turkey.