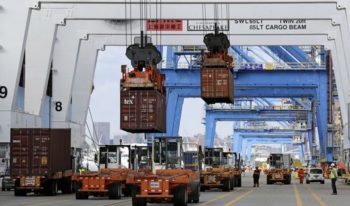 Nigeria has promised to strengthen bilateral trade and investment ties with the Russia Federation.
Nigerian Ambassador to the Russian Federation with concurrent accreditation to the Republic of Belarus, Prof Steve Ugbah, gave the assurance when the Chairman Russia –Nigeria Council (RNBC), Dmitry Osipove, visited him in Moscow.
According to a statement from the Nigerian Mission in Moscow on Thursday, Ugba stressed that his primary goal was to open Russia for Nigeria to explore.
He informed the chairman that Nigeria with a population of almost 200 million people had the market and human resources, and was willing to engage more with Russia.
The two sides discussed the state of cordial relations between Nigeria and Russia in terms of trade and investment and the ways forward for economic development of mutual benefits
At the meeting, special attention was given to the level of business engagements between the two countries and also the opportunities.
Both sides emphasised the importance of working out mechanism for favourable conditions for direct contacts between Nigerian businessmen and their Russian counterparts
The embassy said that the RNBC Chairman and the ambassador also agreed on the need for cooperation in fertilizer production, agriculture, oil and gas, mining among others.
It stated that the duo also agreed on how to organise trade fairs and exhibitions in order to showcase both countries rich culture and resources.