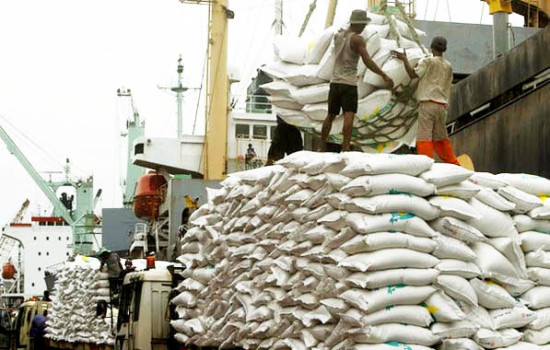 The United States Department of Agriculture (USDA) has projected that Nigeria will be the world second largest rice buyer in 2019.
China is predicted to be the world's largest buyer.
"On an annual basis, consumption and residual use is projected higher in 2018/19 in Angola, Benin, Burkina-Faso, Cambodia, Cote d'Ivoire, Cuba, Haiti, India, Indonesia, Kenya, Madagascar, Nigeria, the Philippines, Sri Lanka, and Vietnam," the department said in its latest Rice Outlook released on Tuesday.
"China and Nigeria are projected to remain the largest rice importing countries in 2019, followed by the EU, Cote d'Ivoire, and Iran.
"Nigeria and Egypt are projected to account for the bulk of the 2019 import increase. Imports in 2019 are also projected to be larger than a year earlier for Benin, Burkina, Cameroon, Cote d'Ivoire, EU, Iran, Iraq, Kenya, Malaysia, Mali, Senegal, the United Arab Emirates and the United States.
"Global rice consumption (including a residual component) in 2018/19 is projected at a record 488.4 million tons, down 0.1 million tons from the previous forecast but up more than 1 percent from a year earlier."
Nigeria's Minister of Agriculture and Rural Development, Audu Ogbeh, had earlier warned that the country may experience rice shortage if appropriate measures are not taken to re-plant after the recent flood.
States like Jigawa, Kebbi, Anambra and Kogi had experienced floods that resulted in farming losses.
The Buhari-led administration had said it would end dependence on imported rice and the Central Bank of Nigeria (CBN) supported the move by restricting forex for rice importation and the Anchor Borrowers Programme.
On November 5, SHIPS & PORTS DAILY reported that the USDA said Nigeria imported three million metric tonnes of rice in 2018, which is 400,000 metric tonnes more than the quantity of the product imported in 2017.
But CBN Governor Godwin Emefiele described the USDA report as "fake news". 
Speaking at the 2018 Nigeria Investment Conference hosted by the Chartered Financial Analysts (CFA) Society of Nigeria in Lagos last week, Emefiele said Nigeria has imported only 25,000 tonnes of rice in 2018, dismissing the USDA report.
"I was reading a report where the United States said the volume of imports of rice increased by 400,000 tonnes.
"I am not a politician but people should be very mindful when they open their mouths to say what is untrue because we would come out as Central Bank to attack it particularly if you use data incorrectly.
"I seize the opportunity to say that it is untrue. The data that we have today shows that rice imported legally into the country is less than 25,000 tonnes in 2018 so far.
"Then how come an agency which has not been to Nigeria or even been to the farms to see what we are doing just comes up and say that Nigeria has imported 400,000 tonnes above what it normally should import?
"Go to the data of countries that export rice, you would see their data; you would find the quantity of rice imported by Nigeria. This is false and fake news," he said.