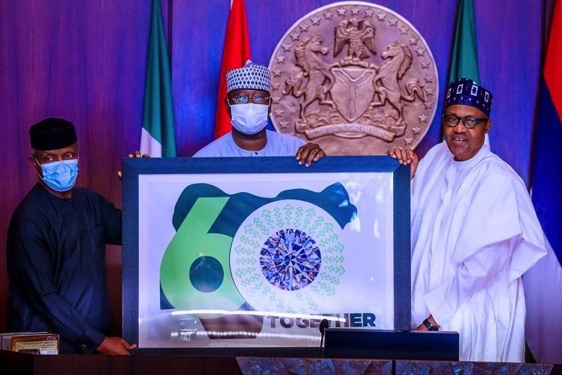 Nigeria is 60 years old today. Naturally this should be a time to roll out the drums, and celebrate. Sixty years of existence of any human being or entity on earth is something worth celebrating.
Unfortunately, Nigeria cannot celebrate. The only Nigerians that can celebrate are the ruling cabal that has held Nigeria hostage since independence, their families, friends and cronies. They are those Nigerians who are privileged to get to power either by the barrel of the gun or by ballot papers, allocated or snatched, who have held on to power, distributing the nation's wealth as they like. They are the privileged few at the corridors of power. They are those that control the heart and soul of Nigeria.
These are the Nigerians who are celebrating. They have to celebrate because Nigeria has been working for them. They can sing and dance. They can celebrate everyday for 365 days a year. They have every reason to celebrate.
But for the older generation of Nigerians who witnessed the pre-and post-independent Nigeria, the youths, the children, it is a time for lamentation. Talk to the future generation and the man in the street, it is not just lamentation, but the word 'celebration' is simply offensive.
In some village settings in Nigeria an old man of 60 who is known for injustice, perversion, favouritism, corruption, lies and deceit is not called good name, but attracts uncomplimentary names. This is what is happening to Nigeria at sixty.
Why would other Nigerians not celebrate? Are they to celebrate the widespread insecurity, the devaluation of human life, the excruciating hunger and endemic poverty amidst enormous wealth? Are they to celebrate the lost glories? Are they going to celebrate Nigeria's record as the world's poverty capital? Or is it how Nigeria has just overtaken India as the world's number one country where children under five years old die?
This is the trending news all over the world. This was after the United Nations Children's Fund (UNICEF) in its 2020 mortality estimates said that Nigeria is now the world's capital for under-five deaths.
Is it not lamentable that this sad development is coming two years earlier than the global body predicted it? UNICEF had said in 2018 that Nigeria would overtake India as the world capital for deaths of children under the age of five by 2021. In less than two years, the prediction came true. Why, because of abject poverty, hunger, criminal negligence of the health sector, incurable corruption and graft.
A few days ago, the ICPC unveiled how N2.67billion meant for the feeding of school children was traced to private accounts, cornered by unscrupulous adventurers in government. These are children of the poor and the obliterated middle class, and among them are children under five years of age.
Regrettably, the year (2018) the prediction was made was the same year that Nigeria was branded the Poverty Capital of the World by international rating agencies. All the federal government could do was continual denial and attacks on people, until its own agency, the National Bureau of Statistics (NBS), confirmed it. The government and its minions chose to ignore the obvious fact that since 2015 when the Buhari administration came to power, Nigerians have been slipping deeper and deeper into poverty due to poor economic management and ineptitude. Are these what the average Nigerian should celebrate?
Why no celebration, but lamentation? Just a few reasons should suffice. Take a look at the nation's shipping and maritime sector, a sector that can conveniently fund the nation's budget. The sector is still tottering at 60. Up to today, Nigeria does not have a national carrier or a viable national fleet. But Nigeria once had a fledging national carrier, the Nigerian National Shipping Line (NNSL). But government officials did not allow it to operate as a commercial enterprise. They used it for selfish interests and political patronage, and finally killed it in 1996, the same way they used and killed the Nigeria Airways in the aviation sector.
NNSL's successor, the National Unity Line (NUL) that rose from the ashes of NNSL equally died naturally a few years after due to ineptitude, neglect and the continued practice of appointing non-professionals to head professional and highly technical government agencies and departments.
In 2015, this government came with a loud noise of resuscitating the national carrier but after spending a lot of money on implementation committees, and on overseas travels, ignobly pulled out from the venture.
The result is that up to today, Nigeria cannot carry its crude oil to the world market, let alone its huge imports. Nigeria maintains the unenviable record of being the only OPEC member that cannot carry its crude, just as it also the only member that cannot refine its crude, but depends on importation of refined petroleum products for the survival of her economy.
Should one talk about the acute maritime insecurity of Nigeria's waters? That Nigeria is internationally known as the piracy capital of the world, a prize it snatched from Somalia at a time the country was regarded as a failed state. Sadly, while piracy and all forms of maritime crimes and insecurity pervade Nigeria's waters with its bad international image, all one has been hearing over the years are preparations to tackle the menace, acquisitions of platforms to confront the challenge and a lot of rhetoric.
How can one not lament the situation of the country's inland waterways? The waterways that drove the nation's economy in pre-colonial and post-colonial Nigeria were abandoned and allowed to die. Successive administrations neglected the waterways that moved the country's agricultural exports from the hinterlands to the seaports, and transported imported products back to those hinterlands.
Today, we are talking about moving Nigeria's imports through the waterways and building of river ports as if they never existed. We are now talking about the railways and linking major cities and commercial centres and seaports by rails as if those rail links never existed, but were simply neglected and abandoned. All that the colonial masters left the nation to build on, develop and modernize in the railways and maritime sector were abandoned to decay and die.
One must also lament how Nigeria's industrial sector that was viable in the 60's, 70's and early 80s' collapsed. How multinational corporations like UAC, UTC, Leventis, Kingsway, Lever Brothers (Unilever), PZ, John Holt, CFAO, and numerous others all disappeared, while some now just exist as relics or museum pieces.
The nation's automobile sector presents another cause for unmitigated lamentation. One can vividly recall that in the 70's and early 80's, the country's automobile sector was thriving. Then we had Peugeot Automobile, Volkswagen, Leyland, ANAMCO –all assembling cars and trucks in Nigeria. Similarly, there were tyre manufacturing industries like Michelin and Dunlop. They were all killed or driven away from Nigeria to neighbouring countries by poor economic policies and infrastructures. Instead of new cars and new tyres, Nigerians became condemned to importation of used (Tokunbo) vehicles and tyres.
Should one talk about the oil industry regarded widely as a curse to Nigeria because of bad and corrupt management? It was oil that killed the agricultural and industrial sectors because our leaders focused only on oil. But 62 years after oil was struck, Nigeria cannot lift her oil to the world market or refine her crude, all due to corruption and mediocrity. Instead of refining her crude, government encouraged building of petrol tank farms everywhere, and importation of refined fuel from anywhere including Niger Republic.
The electricity sector is another source of lamentation. Up to today, 60 years after, Nigeria cannot give her citizens constant electricity, despite having in abundance all that is required to do so. Corruption and sabotage by government officials and the cabal manipulating the sector would not allow Nigerians have electric power supply. Instead they are forced to pay estimated bills for darkness and epileptic supplies.
Why would we not use Nigeria's 60 years anniversary to lament our losses and the decay of infrastructures in almost all sectors: power, roads, houses, public transportation, water, jobs, industries etc.
Should we not lament how Nigeria is increasingly being relegated to the background of international affairs? Should we celebrate our weak political base? Are we to celebrate the pervading atmosphere of insecurity, bloodshed, hatred, animosity, nepotism, ethnicity, clannishness and terrorism?
It is very unfortunate that Nigeria's 60 years independence anniversary came at a time when there is widespread despair and disillusionment, when the nation is so much disunited, divided and dislocated, when the calls for separation and dismemberment are becoming deafening. Unfortunately, instead of silencing these stringent calls with the right responses and policies, the government is unwittingly fanning the embers of separation with wrong responses and policy decisions and actions.
Political experts in Nigeria and all over the world have advised that Nigeria's political structures and institutions must be reformed to reflect conditions suitable for sustainable development. They say without a formidable political base, our economy will remain weak and fragile –that there is urgent need for restructuring of the polity.
The present leaders cannot continue to ignore or suppress the cries of the people, and their demands for restructuring of the country, and expect the problems to disappear. Without facing reality and sitting down to discuss and confront our problems with all sincerity, things will continue to deteriorate; and the lamentations will continue to drown the drums of celebration.